Shetland season 6 release date: When is the new series out?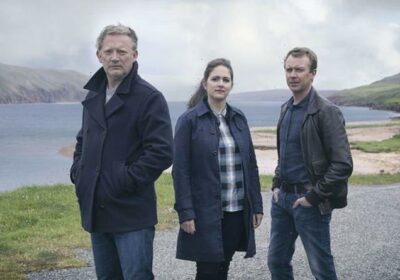 Guilt: BBC tease second season of the drama
We use your sign-up to provide content in ways you've consented to and to improve our understanding of you. This may include adverts from us and 3rd parties based on our understanding. You can unsubscribe at any time. More info
Shetland season six is just around the corner and fans cannot wait for the first episode to air on BBC One. The TV series follows detective Jimmy Perez (played by Douglas Henshall) and his team as they use their unique skill set to investigate crimes. Express.co.uk has all you need to know about when season six will air.
When is Shetland season 6 out?
Fans have not seen new Shetland episodes since season five, which aired all the way back in March 2019.
They had no idea whether the series would be renewed, but thankfully the BBC announced a sixth and seventh season.
Season six is scheduled to air in the UK on BBC One on October 20, from 9pm.
At this moment in time, a US release date has not been announced but hopefully more information will come to light in the coming weeks.
Shetland episodes have been streaming on BritBox, which is available to fans in both the US and UK.
Season six will be made up of six episodes, which will air weekly on Wednesdays in the same primetime slot.
The synopsis for the first episode reads: "Perez attends his mother's funeral on Fair Isle, where he begins to worry that his father is having trouble with his memory.
"However, when Tosh calls to inform him of a murder – the shooting of a prominent and controversial Shetlander on their doorstep in broad daylight – he rushes back to lead the investigation."
For those who are unable to watch the episodes live, they will be made available to watch on BBC iPlayer.
November 24 will mark the season six finale, and fans will be pleased to hear filming for season seven has already started.
Actor Henshall shared the update with fans back in August 2021, saying on Twitter: "Very happy to be back in Shetland filming series 7."
In October 2021, actor Henshall confirmed filming had wrapped on season seven, saying: "We are wrapped on Shetland.
"Production now moves to Glasgow for the rest of season 7. As ever thank you to the people here for your help, support, and patience we couldn't do it without you. #shetland."
In the same month, the actor unveiled a plaque in his name as thanks from the residents of Shetland.
They praised the star for the boost the show had given the tourism industry on the islands.
The actor said he was "very touched" by "such a lovely gesture".
The whole series is based on the novels of the same name by Ann Cleeves, although it has deviated away from the plot somewhat.
Season six is likely to be another original story, with only the same characters being used, rather than storylines.
The new series will continue to star DS Alison McIntosh (Alison O'Donnell), DC Sandy Wilson (Steven Robertson) and Duncan Hunter (Mark Bonnar).
Bonnar is just about to star in the new series of Guilt, which airs on BBC Two from October 14.
Fans have taken to Twitter to express their excitement ahead of the new season next Wednesday.
Fon_Ellard said: "Can't hardly wait to be transported off to beautiful Shetland again to investigate some more heinous and gruesome crimes." [Sic]
John Kennedy said: "Ann Cleeves (who also wrote Vera) writes some beautiful, believable, characters and her storylines are both gripping and plausible. Read the books, watch the video."
Meanwhile, Emma S added: "I'm soooooo excited! We've booked to visit Shetland next June off the back of my obsession with the books and series – cannot wait! If Jimmy Perez isn't waiting for us at the ferry though I'll be soooo sad!" [Sic]
Shetland season 6 will air on October 20 on BBC One from 9pm.
Source: Read Full Article