Shetland actress issues stern warning to fans over 'disturbing twists' as show returns with new co-star | The Sun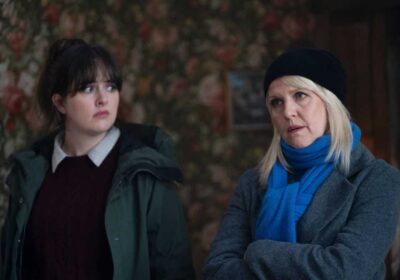 A SHETLAND star has teased show fans about what to expect in the upcoming series.
The BBC crime drama is due to return to screens very soon, and viewers are intrigued to see how the series will unfold.
Season eight of Shetland is packed with surprises, as DS Alison "Tosh" McIntosh, played by actress Alison O'Donnell, has revealed in a recent interview.
Alison discussed the opening storyline and warned viewers about 'disturbing twists' which are due to occur in the new BBC drama series.
It will be the first without former leading man Douglas Henshall, who portrayed DI Jimmy Perez, and left at the end of the last series.
He will be replaced by Ashley Jensen, who will play the lead detective, Met Police Detective Inspector Ruth Calder.
Read more on Shetland
NEW IN TOWN
BBC drops first look at Shetland series 8 with new detective in lead role
'90s THROWBACK
Shetland star looks unrecognisable in unearthed photos from 24 years ago
The new series will see DI Ruth return to her native Shetland, accompanied by DS Alison, to retrieve the victims who have witnessed a gangland murder while investigating the crime.
Maisie Norma Seaton will play Ellen Quinn, a young woman who has disappeared from London back to Shetland after witnessing the killing. 
In an interview with What To Watch, Alison said: "Calder and Tosh must team up and put their respective skill-sets and knowledge together to try and find Ellen, which will take them on a journey neither of them could ever have imagined.
"With ever more disturbing twists leading them deeper and deeper into a world of secrets and, ultimately, to the truth behind it all."
Most read in TV
NO HEADS-UP
Amanda Abbington 'didn't tell' Giovanni she quit Strictly before dramatic exit
haunting comeback
Strictly legend making 'epic return' – four years after quitting
FRESH START
Gaz Beadle and Emma McVey selling million-pound mega mansion after shock split
DANCE OFF
Amanda Abbington's fiancé speaks out as she quits Strictly amid 'Giovanni feud'
Regarding Tosh's relationship with her new colleague, Alison told the publication: "It is new and fragile, and their policing styles don't always marry up.
"But these are two confident, experienced women who recognise the value of working together and pooling resources, and who respect each other, even though they don't always see eye to eye."
The BBC teased: "The new series sees Met Police Detective Inspector Ruth Calder return to her native Shetland to retrieve the vulnerable witness to a gangland murder. 
"Tosh must pause her investigation into a string of mysterious animal deaths to help DI Ruth Calder find the witness before it's too late.
"However, Calder's hostility to Shetland will challenge Tosh's view of her adopted home, and their journey into the darker recesses of Shetland's past and present will test this fragile, new partnership."
Last November, Ashley, known for her role in Extras alongside Ricky Gervais, was confirmed as Douglas' replacement.
Following the news announcement that she would become the leading lady, the actress expressed that she was "absolutely thrilled" to be joining the popular BBC programme.
She added: "It's such a hugely successful show, and I am aware I have very big boots to fill since the departure of DI Perez, who was very much loved by fans of the show."
Read More on The Sun
INSIDE THE CARAVAN
Gypsy shares the beliefs she follows, including the word she never uses
ON YOUR MARKS
I worked in Aldi – why we have to scan your shopping so fast
Meanwhile, fans of the show are eager to see how the new detective will carry the new series following DI Jimmy's exit.
Shetland returns to BBC One on Wednesday, November 1 at 8pm.

Source: Read Full Article