'Seinfeld': Did George Costanza Have a Brother Who Died?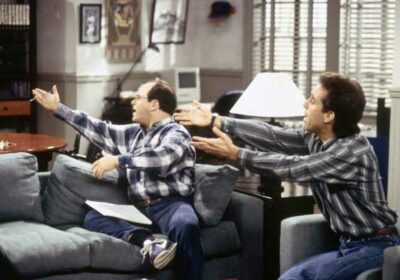 George Costanza had a brother. At the very least, the early seasons of Seinfeld would have fans believe that was the case. The brother had seemingly vanished into thin air by later seasons, and none of the characters ever spoke his actual name. A fan theory suggests that George's brother may have died at some point, and there is a fair bit of evidence to back up the idea.
Did any of the characters on 'Seinfeld' have siblings?
Seinfeld, at its core, was about the mundane happenings of four friends. Over the course of the show's nine-season run, fans were introduced to several of the main characters' family members. The writing team introduced Jerry Seinfeld's parents early on in the show. The Costanzas were a regular part of storylines, too. Kramer's mother, Babs Kramer, was regularly mentioned and Elaine's father made an appearance. 
While Jerry and his pals regularly discussed their parents, they rarely mentioned any siblings. So, were they all only children? Not at all. During the show's run, it was revealed that three of the four main characters had at least one sibling.
Elaine, for example, mentioned her sister, Gail, in a season 4 episode. Jerry made mention of his sister, who remained unnamed, in the famed episode "The Chinese Restaurant," and George Costanza alluded to a brother on a couple of occasions. Cosmo Kramer was the only character who was actually an only child. 
A fan theory suggests George Costanza had a brother that died
In 2016 a Cracked article laid out a pretty convincing theory that George stopped mentioning his brother because he died. The theory gets pretty dark. According to the author, George mentions his brother (never by name) during the season 3 episode, "The Suicide," In the episode, George goes to see a psychic. The psychic mentions the name Pauline, and George remarks that his brother once "impregnated a woman named Pauline"
Sure, you could argue that the table is a four-person table, so the extra chair came with the set. It's not like there was a place setting or anything. However, you can't explain why there was what appears to be an urn in their home, though. An urn is visible in several scenes inside Frank and Estelle's home. It is never explained, but could it possibly contain the ashes of their other son? Maybe. 
Source: Read Full Article