SEAL Team: Who plays Trent Sawyer in SEAL Team? Meet Tyler Grey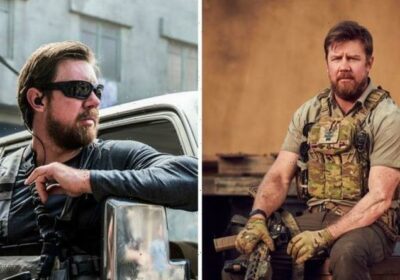 SEAL Team: CBS teases season finale of show
When you subscribe we will use the information you provide to send you these newsletters. Sometimes they'll include recommendations for other related newsletters or services we offer. Our Privacy Notice explains more about how we use your data, and your rights. You can unsubscribe at any time.
SEAL Team fans have been following Trent Sawyer's journey since season one of the action-packed CBS series. The character has been at the centre of some of the show's most intense moments, never shying away from the thick of it. But who plays the iconic SEAL Team character?
Who plays Trent Sawyer in SEAL Team?
Trent Sawyer is a navy SEAL and Special Warfare Operator First Class of Bravo Team.
Throughout the series, he is referred to as B4 or Bravo Four and is played by Tyler Grey in the show.
Grey is a Consultant and Army Ranger in real life, alongside his acting career.
The star is a former 1st Special Forces Operational Detachment-Delta operator, and before that he was a sniper-qualified Army Ranger.
His career in the army ended when he was severely wounded on a mission in Iraq, leaving his arm with a visible disfigurement.
The actor works closely with the SEAL Team crew, not only portraying Trent Sawyer but also serving as a producer and consultant on the show.
Speaking to Military.com, Grey explained why he chose to work so closely with the SEAL Team crew and what originally drew him to the role.
The former military specialist explained: "I've been working on SEAL Team since the pilot. At the very beginning, it started with someone from the military with prior service who wanted to make something about Special Operations.
"The start was with a veteran and not the other way around. That's very rare. SEAL Team also has four full-time advisors."
The veteran also offered insight on what sets SEAL Team apart from other military television and film projects.
Grey continued: "I worked on a 200-million-dollar movie that had just three, to give you an example. They've really allowed more veteran involvement than I've ever seen or heard of.
"At the end of the day it's a TV show, but the goal to capture the authenticity of what the military, what these continuous deployments are like and what it's like to be deployed and come back home."
Grey has starred in the series since the first episode of season one and has proved to be integral to the show both on and off-screen.
During the events of season three, Sawyer once again helped keep the team together and on guard, which was shown during the final episode.
Bravo team returned to The Middle East to Afghanistan for the start of a three-month mission.
The mission starts off quiet, much to the annoyance of Sawyer and the rest of Bravo team, however, that soon changes.
They come face-to-face with a new gathering group of fascists and Bravo team attempts to hunt them down and stop them.
While on high alert, Sawyer notices an idle vehicle which he attempts to stop before it can crush the team.
He then takes down four armed men before they can enclose on Bravo's position.
Sawyer holds them off, risking his life, while the rest of the team finishes the mission and together, they wait for backup.
SEAL Team continues to build in popularity, with CBS recently announcing the fifth season of the series which is set for release later this year.
Trent Sawyer will be back along with the rest of Bravo team.
SEAL Team is available to watch on CBS.
Source: Read Full Article