SEAL Team season 6: Fans in meltdown as David Boreanaz shares first-look 'Back in'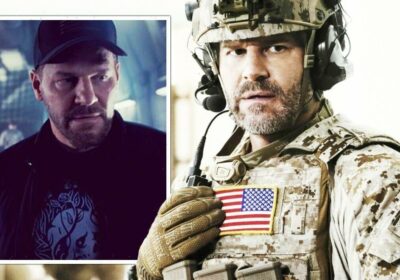 Seal Team: Paramount releases season 5 episode teaser
We use your sign-up to provide content in ways you've consented to and to improve our understanding of you. This may include adverts from us and 3rd parties based on our understanding. You can unsubscribe at any time. More info
David Boreanaz and the cast of SEAL Team are currently hard at work filming the hotly anticipated sixth season of the action-packed drama. Originally on CBS, the series has achieved even more success after its move to Paramount Plus, and David has now taken to Instagram to assure the show's millions of fans production is well underway.
The Bravo Team leader has revealed the first look at his character Master Chief Jason Hayes in SEAL Team season six.
Jason appears to still be battling his inner-demons as he prepares for another high-stakes mission.
In the caption, David wrote: "Bravo1 check. All stations check in…Back in."
His latest update confirms filming is well underway for the next outing, which will hopefully hit screens by early 2023.
David had previously confirmed production had started near the end of May.
Now, fans have been given their first sneak peek at the new episodes, confirming SEAL Team's production is clearly making good progress.
Down in the comments, many of David's 710k followers celebrated the imminent return of one of their favourite shows.
"I had been waiting for this news for a long time," @cinco_senti2 said. "Excited for this season and looking forward to many more."
View this post on Instagram

A post shared by David Boreanaz (@imdboreanaz)
@movie_tvshow_fan replied: "All stations check-in! Great news! Go Bravo team!"
IG user @mcapellades.design exclaimed: "Good to see you're back!!!"
And @tianalynn1 added: "OBSESSED with this show… Bravo 1 has been my crush since Buffy was slaying your heart."
While concerned fan @milopugalugs asked: "Is that a flag draped coffin in the background??"
DON'T MISS:
Game of Thrones fans slam HBO plans for Jon Snow sequel [REACTION]
Naga Munchetty forced to step in after BBC sound issues [VIDEO]
Abbott Elementary boss sparks frenzy with season 2 update [LATEST]
Speculation has been rife regarding the survival of Bravo Team following their latest daring mission.
The fates of several soldiers were left up in the air after the team was ambushed, leaving Jason and Clay Spenser (played by Max Thieriot) with serious injuries.
Many viewers have expressed their concerns as Clay's injuries coincided with Max signing up to a new series for CBS, Fire Country.
Thankfully, the latest reports have confirmed Max will be coming back as a series regular, while David's post has confirmed Jason is still alive and well after their mission to Mali.
TVLine's Matt Webb Mitovish recently reported: "I am re-re-assured that Thieriot is, in fact, able to do both shows, and as such remains a series regular on SEAL Team."
Even so, it remains to be seen how the injuries will affect the elite marines, or whether the entire team will be able to make it out alive.
No release date has yet been set for SEAL Team season six, though Fire Country will be hitting screens in the US after the summer.
SEAL Team season 6 will premiere on Paramount+ in the USA later this year. Season 5 continues Wednesdays on Sky Max and NOW in the UK.
Source: Read Full Article