Russian Doll season 3: Natasha Lyonne shares 'outlandish' idea for sci-fi drama's return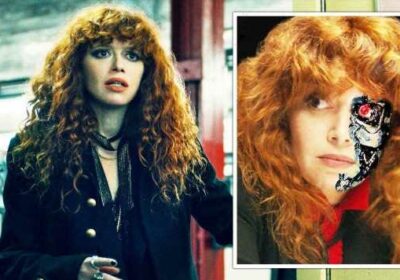 Russian Doll Season 2 official Netflix trailer
We use your sign-up to provide content in ways you've consented to and to improve our understanding of you. This may include adverts from us and 3rd parties based on our understanding. You can unsubscribe at any time. More info
The mind-boggling time loop drama returned for a second season on Netflix this month, this time throwing Nadia Vulvokov (played by Natasha Lyonne) headfirst into a high-stakes time-travel adventure in 1980s New York. Russian Doll's co-creator has now confirmed a potential third season could feature another completely different yet equally zany sci-fi premise.
Actress and writer of Russian Doll Natasha has proposed Nadia could return as a cyborg in the next instalment of the popular Netflix drama.
Although both seasons of the show so far have enjoyed messing around with time, the third outing could tackle a completely different subject matter.
"I've been incredibly open about my desires to become a cyborg," Natasha teased.
"I would love nothing more than to have a half silver face with a red eye, and in season three just be walking around with my robot neck and stuff. Just imagine how great that would be."
After reliving her 36th birthday in an infuriating time loop last season, Nadia stumbles across a wormhole to 1982 on New York's 6 Train.
She soon realises she's stuck in the body of her pregnant mother, Lenora (Chloë Sevigny), and races against the clock to keep her out of trouble.
An ingenious yet baffling twist in the season finale sees Nadia as Lenora giving birth to herself before deciding to kidnap baby Nadia to keep her safe in the present day.
With a much younger version of herself now living with her in NYC, Nadia may have done irreparable damage to the Earth's timeline.
Could she eventually find herself in an alternate universe populated by cyber-augmented humans?
Russian Doll may not be heading in quite so bonkers a direction in season three, but Natasha and her co-star Charlie Barnett have both confirmed there are already plans in the works for how the story could continue.
Natasha added to Entertainment Weekly: "Hopefully the audience appetite will be there and hopefully they'll want to let us make it."
Having originally been pitched as a three-season storyline, Russian Doll's debut season immediately proved popular enough to warrant a follow-up.
DON'T MISS:
Britain's Got Talent viewers call out 'staged' water escape [REACTION]
Reacher author offers promising update on series' future [INSIGHT]
Moon Knight crew member exposes meaning behind hippo god twist [INTERVIEW]
A third season has yet to officially be confirmed by the streamer, but Natasha and her collaborators Leslye Headland and Amy Poehler are already thinking about where to take Nadia next.
"I know that we're very in love with this show and the process of making it and getting to explore these big questions," Natasha continued.
"And it's a really artistically fulfilling process, so I sure hope we get to do it and that people want us to."
And co-star Charlie confirmed Natasha, Amy and Leslye have "something planned for the future".
He continued: "I know that that plan may be chipped and edited and reversed and manoeuvred all over the place, but I know that there's something there.
"If [the first] season was about death to a certain extent, the second season is about life, what could the next season be about? Is it about choices? Is it about, I don't know, expanding onto a different plane even? Are we going to be aliens?"
Russian Doll will hopefully be sticking to the sci-fi themes it's been exploring so far, but fans will just have to wait to see if season three is just as out of this world as the cast suggests.
Russian Doll seasons 1 and 2 are available to stream on Netflix.
Source: Read Full Article