Rob and Romesh get dramatic makeovers before bombing in DISASTROUS performance on new travel show | The Sun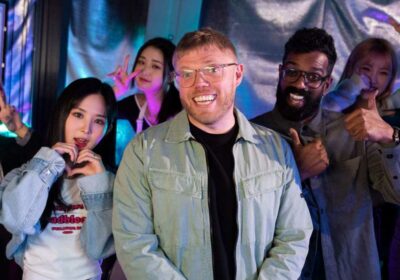 ROB Beckett and Romesh Ranganathan are set to shock fans with a K-Pop inspired performance tomorrow night.
The pair journey to Korea as part of their new series of Rob & Romesh Vs – which airs on Sky Max.
The comedians jet off to Seoul, the first destination of the second season, to learn the ropes of being a K-Pop star.
The pair will prepare and and perform their own routine inspired by the genre for fans watching on in Seoul.
In a first look clip, Rob and Romesh first meet with K-Pop stars TRI.BE – a band made up of seven women – to get the lowdown on what it takes to be successful in Korea.
They head to a karaoke bar to test out their vocal abilities – performing their own rendition of Alicia Keys' Empire State Of Mind.
read more on romesh ranganathan
TV comic Romesh Ranganathan's eye-watering fortune revealed
BAFTA hosts Rob and Romesh take brutal swipe at Holly and Phil
Romesh says: "TRI.BE want to assess our singing to see what they would be working with.
"So aware this was our big chance to make a big first impression, I picked a song that hopefully wouldn't be too challenging."
Rob adds: "The song was a good choice for Romesh, and TRI.BE were impressed – but I was worried.
"I am waiting to sing, and I know I can't do it, but I had to, so I gave it my all."
Most read in TV
Big Brother legend Helen unrecognisable 22 years after quitting fame
Coronation Street fans stunned as fan favourite quits the cobbles
Big Brother set to bring back show legends for explosive ITV reboot
Tragic video tribute reveals George Alagiah's last wish weeks before his death
He is then seen screeching into the mike to sing Alicia's part – leaving his co-star wincing and the crowd laughing.
Romesh concludes: "If you told me that Rob, just before doing that, had been told to do it in the style of Aled Jones doing the Snowman, I would've believed you."
Later on in the episode, Rob and Romesh are given a make-over to complete their transformation.
And to top it all off, the pair – dressed entirely in orange – take to the streets of Seoul to perform with the K-Pop stars as their backing dancers.
Rob & Romesh Vs airs tomorrow night on Sky Max.

Source: Read Full Article