Ratings: All ABC Dramas Rise With Finales, The Rookie Tops Tuesday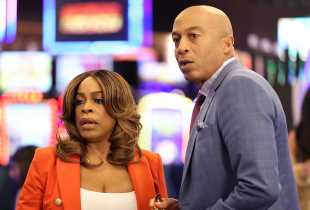 In the latest TV show ratings, and with CBS' #TheFBIs in rerun mode, ABC's The Rookie season finale led Tuesday both in total audience and in the demo.
Broadcast Shows That Are Still on the Bubble!



Launch List


ABC | The Rookie ended Season 5 with 4.2 million total viewers and a 0.5 rating, marking a three-episode high in audience and also up an uptick in the demo; TVLine readers gave both the finale and the season an average grade of "A" (read recap). On-the-bubble The Rookie: Feds (2.9 mil/0.3) closed its freshman run with its best audience since Jan. 31 and also ticked up in the demo; grade the season below. Will Trent (3.2 mil/0.3, TVLine reader grade "A+") wrapped Season 1 with a three-episode high in audience while steady in the demo.
THE CW | Superman & Lois (670K/0.1, read post mortem) grew to its third-largest audience of the season thus far, whereas Gotham Knights (340K/0.1) slipped to a new low.
FOX | 9-1-1: Lone Star (3.5 mil/0.4) and Accused (2 mil/0.2) both added viewers while steady in the demo.
NBC | Night Court (3 mil/0.3) and The Wall (1.9 mil/0.2) dipped, while Lopez vs. Lopez (1.9 mil/0.2) and Weakest Link (1.9 mil/0.3) were steady.
Want scoop on any of the above shows? Email [email protected] and your question may be answered via Matt's Inside Line.
The Live+Same Day numbers reported in our ratings column do not reflect a show's overall performance, given the increased use of delayed playback via DVR and streaming platforms, plus out-of-home viewing. These numbers (Nielsen fast nationals, unless denoted as finals) instead aim to simply illustrate trends or superlatives. This is only an exhibition, this is not a competition. Please, no wagering.
Source: Read Full Article