Rapper Azealia Banks announces she is engaged to artist Ryder Ripps and shows off menorah ring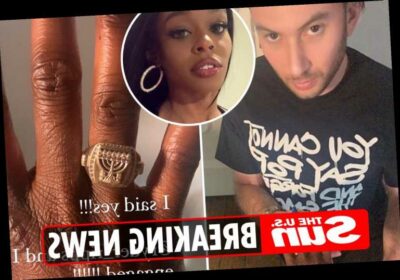 RAPPER Azealia Banks, 29, announced on Monday that she's engaged to her artist boyfriend Ryder Ripps.
She flaunted her giant, gold menorah engagement ring that the 34-year-old creative director gave her in a close-up photo on social media.
On top of the image of her left hand and the new piece of jewelry, she wrote: "I said yes!!! @ryder_ripps and I are engaged!!!!!!"
Azealia added in the caption: "I just got engaged k**ts. I'm crying 😭…. I'm Jewish now. 
"MAZEL TOV B***HES! WE IN HERE…. YERRRRRRR"
As for Ryder, he also shared the engagement news on Instagram, using a different photo of Azaelia's ring.
The snap cropped in on just her wrist and her hand, resting on top of a fluffy blanket.
She has on a few silver chain bracelets with blue charms attached, but the square, gold ring with a menorah in its middle is the main focus.
In Azealia's Instagram Story, she shared more details about the proposal by posting a few photos from the happy occasion.
In one, a T-shirt-clad Ryder was bent down on one knee as he stared directly into the camera, holding up Azealia's left hand and showing off the new engagement ring he'd just given her.
In the second, he bent his head down to give his fiancee's hand a sweet kiss.
After a few followers commented on Azealia's post slamming her for saying she's Jewish now and wearing a menorah engagement ring, she revealed Ryder wanted to give it to her because it's a "family heirloom."
She added: "B***h I'm making shashuka, challah cornbread, black Israelite salad and matzoh fried chicken tomorrow. You can't stop me. I'm a jewcy diva now."
More to follow…
For the latest news on this story keep checking back at Sun Online.
The Sun is your go to destination for the best celebrity news, football news, real-life stories, jaw-dropping pictures and must-see video.
Download our fantastic, new and improved free App for the best ever Sun Online experience. For iPhone click here, for Android click here. 
Like us on Facebook at www.facebook.com/TheSunUS and follow us from our main Twitter account at @TheSunUS.
Source: Read Full Article