Question of Sport fans rage as Paddy and team return over former line-up 'Bring back Sue!'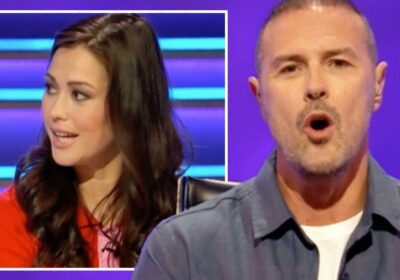 Question of Sport: Ugo Monye tries to decipher picture clue
We use your sign-up to provide content in ways you've consented to and to improve our understanding of you. This may include adverts from us and 3rd parties based on our understanding. You can unsubscribe at any time. More info
Paddy McGuinness took on the role of Question of Sport host last year when it was confirmed the BBC had replaced Sue Barker. The quiz show underwent a complete overhaul with former team captains Matt Dawson and Phil Tufnell also making way for hockey player Sam Quek and rugby star Ugo Monye. The first series which involved the new trio divided the fanbase and with an all-new series kicking off on Friday, July 22, it's safe to say fans were still dismayed.
On Friday, the new series of Question of Sport and the second with Paddy at the helm welcomed some of the biggest names from women's football.
Lianne Sanderson, Anita Asante, Rachel Furness and Rachel Brown-Finnis were the four guests joining Ugo, Paddy and Sam to kick off the new run.
However, despite the new team being one series into their tenure, a number of fans still vented their fury at the overhaul.
So much so, that some fans were still calling for the BBC to revert Question of Sport back to its former line-up of Sue, Matt and Phil.
Taking to Twitter, Ellen Leigh fumed: "Sorry, l thought you said Question of Sport was back.
"Got really excited at the thought of Sue and the gang but sadly not! It's a s**t show these days so after years of watching I don't anymore."
While Steve Barney agreed: "Sorry to say I don't watch any more after being glued to it since early '70s.
"Dislike the recent changes. Not the programme it was, or should be in my opinion. I miss it."
Elsewhere, JJ echoed: "Get rid of Paddy and bring back Sue. Don't understand why McGuinness is so popular."
And Charlie Mark Mynott weighed in: "This Is NOT A Question Of Sport! Never will be!! I watched for over 50 years!!! No Longer!!!"
Meanwhile, Andy Denyer took aim at the BBC's scheduling, fuming: "But why has the Women's Euros Special been scheduled opposite the, er, Women's Euros (on BBC2 at the same time)?"
There was some support for the new series, however, as some fans expressed their delight at the Euros special kicking off the new run.
DON'T MISS:
William Shatner distracts The One Show fans with 'ageless' appearance
Prince Andrew 'didn't tell Queen full story' about Newsnight interview
The Crown will show 'how Diana was treated' in Panorama interview
Twitter user @FacileTalk: "Some top guests on #QuestionOfSport tonight.
"Good to see that the BBC listened to viewer concerns & is working to stop this show from completely going down the s**tter."
MORE TO FOLLOW…
Source: Read Full Article