Q Force cast: Why did Matt Rogers sign up? Star landed role by 'accident'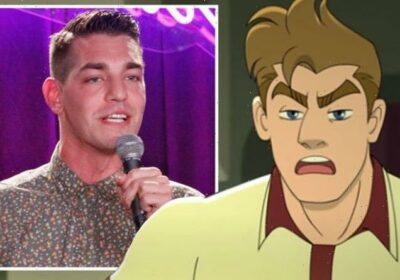 Q-Force: Netflix release hilarious trailer for new animated series
We use your sign-up to provide content in ways you've consented to and to improve our understanding of you. This may include adverts from us and 3rd parties based on our understanding. You can unsubscribe at any time. More info
Matt is one of the main cast members who has lent their voice to the characters in Netflix's Q-Force, an animated comedy centred around a group of undervalued LGBTQIA+ super spies. Other famous faces starring in the show include Sean Hayes, Gary Cole and Wanda Sykes, but Matt was not meant to be a part of the original billing. It was all "accidental" but how exactly did the actor land such a prestigious role?
Why was Matt Rogers cast in Q-Force?
Matt was originally hired to be a writer on the show, joining the team led by Gabe Liedman, who also stars as Benji in the series, as showrunner.
However, bosses ultimately decided he would be better as a member of the cast and he took on the character of Twink.
Coined as the "master of disguise", Twink is a part of the Q-Force who can change himself into drag at any given time.
This casting came about when Matt was asked to read for the role at the first table-read of the season because producers weren't satisfied with the additions they had seen.
The actor said: "After the table read, they all came out of their meeting and said they wanted to offer me the role.
"So that was how it happened, really by accident," he explained, meaning Matt served as both a cast member and a writer for the show.
This is the same instance which happened for showrunner Gabe and executive producer Sean, who plays Steve Maryweather in the series.
The ability to be in the comedy as well as writing the scripts meant Matt could improvise when it came to recording his character's voice.
He recalled: "In the final edits of the episodes, it's probably like 95 percent stuff that was already in the script."
"And then every now and then I will hear something where I'm like, 'Oh yeah, that was one of my improvs'," Matt explained.
Happened by accident

Matt Rogers
What did Matt Rogers think of his character Twink in Q-Force?
Although his mind wasn't set on landing a character role, Matt fell into the shoes of Twink quite quickly.
Discussing his view on the character, he said: "Immediately, the character of Twink really jumped out to me as someone whom I was really excited about because I loved that he was a drag queen by day and a master of disguise by night.
"He could really become anything," the actor said, before adding how he "loved" his alter-ego's jokes and sense of humour.
"I loved that he was unfiltered and said whatever it was that he wanted to say, whether or not it was called for," the comedian said.
"I loved how sex-positive he was. I loved everything about him," Matt remarked and viewers will be seeing plenty of Twink in the series.
Made up of 10 episodes, Q-Force was released internationally on the streaming platform on September 2, 2021.
Due to the impact of the coronavirus pandemic, the process of writing the episodes were a little different.
As the world turned virtual, Matt explained to the UPI news agency the final six episodes came together over video calls rather than face to face meetings.
Taking to Twitter, Netflix subscribers across the world have been reacting to the new series and Twink seems to have generated some attention.
Commenting on Matt's character, one wrote: "Wait the character from Q-Force is actually named Twink? Like he didn't just call him that as a nickname or to be funny?"
Another posted: "Just found out one of the Q-Force characters is named Twink. Maybe it won't be as bad as I think."
Whilst a third remarked: "Q-Force marathon here I come. I'm a few episodes in and falling in love with these characters."
Q-Force is available to stream on Netflix.
Source: Read Full Article