Prue Leith opens up on new Bake Off host rumours and Matt Lucas exit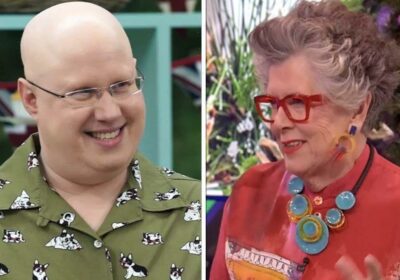 GBBO: Prue Leith reflects on Matt Lucas' exit from show
We use your sign-up to provide content in ways you've consented to and to improve our understanding of you. This may include adverts from us and 3rd parties based on our understanding. You can unsubscribe at any time. More info
Prue Leith addressed Matt Lucas's potential replacement in presenting The Great British Bake Off. The rumour mill is turning who will take over from the popular comedian for the coveted role. However, on The One Show Prue focussed her energy on heaping praise on the outgoing presenter.
The BBC programme welcomed the judge on the famous sofas to discuss the changes going on in the hit show.
Alex Jones asked a question from a viewer and invited Prue to give her thoughts on Matt and who a potential replacement could be.
Prue replied: "You know, almost everybody who's in telly has told me 'I'm available' as if I had anything to do with it.
"What I think about Matt Lucas is that I'm really sad because I love the guy. He's such fun and he got on well with Noel, they were just brilliant.
Read More: Madeley erupts at RMT's Mick Lynch over 'disingenuous' strike action
"But, I do understand why because if you are close to Matt you know he never stops working.
"He has so many projects that people keep asking him to do things and you know he loves theatre, he was in Les Miserables for years, he loves that sort of show.
"But, you can't commit to it if you're on Bake Off because we film all through summer, so I think he's thought three years is enough, but I think he loved it."
The expert baker then lamented the funnyman's departure and declared: "We're really sorry."
When reflecting on who could follow in the footsteps of Sandi Toksvig, Mel Giedroyc and Sue Perkins in hosting the iconic programme, Prue was unsure.
She added: "I don't know who should replace him really" and Alex interjected: "So watch this space basically?"
The cheeky presenter then gestured to fellow guest, actor Mark Gatiss and joked: "There's an opening, quick have a chat."
Prue appeared on the show to discuss her new book and subsequent tour called Nothing in Moderation.
The leading name with bookmakers to replace Matt is the popular comedian and consumer champion Joe Lycett.
Joe is leading the charge with Ladbrokes to take the reins and announce the names of who wins Star Baker and who is leaving the iconic tent.
The other fancied star is the creator of Chicken Shop Date, Amelia Dimoldenberg, tipped at 7/2.
Alex Apati of the betting company said: "Channel 4 chiefs have got a huge decision to make when it comes to Matt Lucas' replacement.
"Matt Lucas was the cherry on the Bake Off Cake and it's certainly going to take a big personality to replace him."
Announcing his exit from presenting duties, Matt surprised the TV world with a short statement to his 332,000 Instagram followers.
He said: "It has become clear to me that I can't present both 'Fantasy Football League' and 'Bake Off' alongside all my other projects.
"So after three series and 51 episodes, I am cheerfully passing the baguette on to someone else."
The Great Christmas Bake Off airs on Christmas Eve at 8.25pm on Channel 4
Source: Read Full Article