Peter Farrelly, Paul Wernick And Rhett Reese Team On Comedy 'Balls Up' For Skydance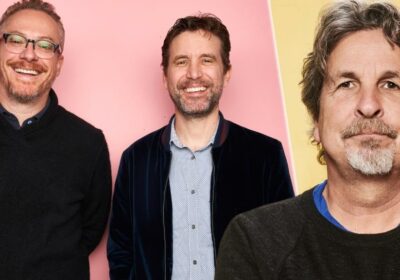 EXCLUSIVE: Peter Farrelly is looking to get back in to the genre that helped launch his career as sources tell Deadline the Oscar-winner is partnering with Skydance on the new action-comedy Balls Up that he will direct from a script by Deadpool scribes Paul Wernick & Rhett Reese.
Based on an original pitch from Wernick & Reese the project was developed with Skydance. Skydance's David Ellison, Dana Goldberg, and Don Granger are producing along with Wernick & Reese and Andrew Muscato. Aimee Rivera will oversee the project for Skydance.
Related Story
NFL And Skydance Team To Create Multi-Sport Production Studio
Plot details are unknown but sources say the tone will fit right in with those classic comedies like Dumb & Dumber and Kingpin that Farrelly directed with his brother Bobby that made the Farrelly's two of the biggest names in comedy during the 90s and 2000s. Farrelly is currently in production on the Amazon pic Ricky Stanicky starring Zac Efron, but wanted that next project ready to go once he is done shooting Ricky Stanicky and moved fast to get this set up at Skydance with actors already meeting for the starring roles.
The film reunites Skydance with Farrelly following him directing The Greatest Beer Run Ever which premiered on Apple TV+ last year.
As for Wernick & Rheese, the duo are currently penning the third Deadpool pic for Marvel with plans for that to go into production later this year.
Coming off the hugely successful Top Gun: Maverick, Skydance's upcoming live-action film slate includes the seventh and eighth installments of the wildly popular Mission: Impossible series, Transformers: Rise of the Beasts, along with Ghosted, The Family Plan and The Gorge for Apple TV+ and Heart of Stone, The Old Guard 2 and a reimagining of the successful 2001 Spy Kids franchise for Netflix.
Farrelly is repped by CAA, Anonymous Content, and Lichter Grossman. Wernick & Reese are repped by WME.
Must Read Stories
Open To Hulu Sale; Peltz Drops Board Battle; Company Split Into 3 Units; Showbiz Chiefs Set
Burt Bacharach, 94; Prolific Pop Composer, Oscar & Grammy Winner
WGA West Sets First Membership Meetings To Discuss Upcoming Contract Talks
'Magic Mike's Last Dance' & 'Titanic' Reissue Counter Super Bowl: Weekend Preview
Read More About:
Source: Read Full Article