Pam Grier Thought Samuel L. Jackson's Fast 'Jackie Brown' Dialogue Would Make Her Fall Down the Stairs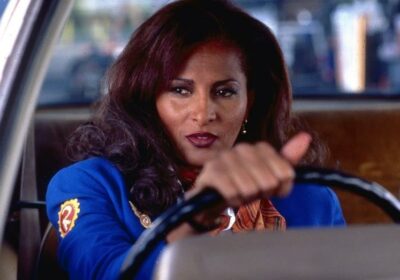 A lead role in a Quentin Tarantino movie is one of the most coveted jobs in Hollywood. Actors dream of delivering his uniquely quotable dialogue and giving themselves the chance to be immortalized in one of the iconic movie moments he seems to consistently deliver. But Pam Grier wants fans to know that once you land the gig, it isn't necessarily all that it's cracked up to be.
While reflecting on her career in a new interview with Entertainment Weekly, the Blaxploitation legend explained that the two-week rehearsal process made her wonder if she could keep up Tarantino's dense dialogue and Samuel L. Jackson's fast delivery.
"She has to speak fast with Sam Jackson's Ordell," Grier said of her eponymous character. "I said, 'I don't know how I'm going to speak that fast with Sam Jackson, walking down the steps, not looking at the steps. I'm going to kill myself!' I said, 'Quentin, I'm going to fall. Can we just finish with me lying down there on the steps saying I can't keep up with this man?' He talks so fast!"
Despite the artistically trying shooting process, Grier has no regrets about taking on the challenge of working with Tarantino.
"I was ready to work with Quentin and give him what he needed," she said. "He only uses one or two takes. When he works you and you feel it, and you're in the groove, man, it just flies."
The hard work that she put into the project certainly paid off. "Jackie Brown" was recently ranked No. 48 on IndieWire's 100 Best Movies of the '90s list. For that story, IndieWire summed up the film's place in history as such: "'Jackie Brown' may be considerably less bloody and slightly less quotable than Tarantino's other 1990s output, but it makes up for that by nailing all of the little things that he does so well. The clever casting, flawless soundtrack, and wall-to-wall intertextuality showed that the same man who delivered 'Reservoir Dogs' and 'Pulp Fiction' was still lurking behind the camera. But while so much of Tarantino's output centers around delivering audiences the bloody catharsis they crave, 'Jackie Brown' stands out as something worth remembering precisely because it deprives us of that."
Source: Read Full Article