Outer Banks' John B. Reunites With [Spoiler], Kiara and JJ Get Cozy in Full Season 3 Trailer — WATCH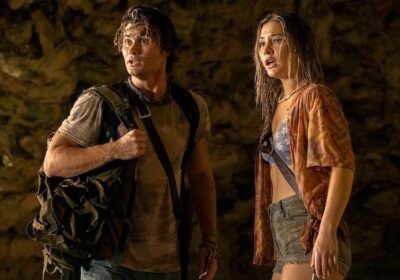 Outer Banks' John B. and friends have kept pretty busy since we last saw them. (Because, c'mon, Poguelandia wasn't going to found itself!) But as the new Season 3 trailer can attest, soon their attention will be less focused on chilling on a deserted island and more concerned with finding gold (again) and running for their lives.
Netflix on Thursday released a full trailer for the upcoming season, all 10 episodes of which will be available to stream on Thursday, Feb. 23. And a lot happens in the two-minute preview! The Pogues wind up on a journey to the legendary city of El Dorado. John B. reunites with his presumed-dead dad, Big John. Sarah enlists the help of an unlikely ally. And… are we seeing this correctly… are Kiara and JJ about to kiss?!
Per the season's official synopsis, the Pogues — aka John B., Kiara, Pope, Sarah, JJ and Cleo — are spending time on the desert isle they washed up on at the end of Season 2 (read a full finale recap) when they suddenly find themselves thrust back into a treasure hunt.
"They're broke and far from home, they can't trust anyone, Ward and Rafe are hungry for revenge, and there's a ruthless Caribbean don who will stop at nothing to find the bounty," the summary reads. "Was the treasure ever within their reach? Or was it all a trap to stop them once and for all? Either way, it's the Pogues against the world — and the only way out is together."
Press PLAY on the trailer above to see what Season 3 has in store, then hit the comments with your thoughts!
Source: Read Full Article