Okay, I Need to Know When New Episodes of 'And Just Like That…' Come Out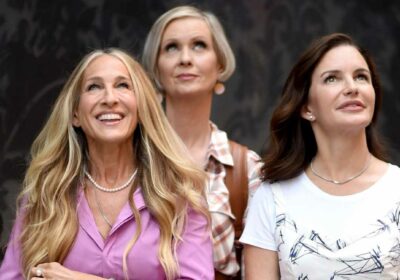 And Just Like That… it's finally here! It's been 23 years since we first saw Carrie Bradshaw (Sarah Jessica Parker) walking the streets of New York in her white tutu and heels, and we finally get to meet her again in the big city. Only now, she has years of experience—and hopefully more wisdom—with her.
This time, we follow Carrie and her friends Charlotte (Kristin Davis) and Miranda (Cynthia Nixon) as they navigate their 50s. Of course, things won't be the same without Kim Cattrall reprising her role as the iconic Samantha Jones, who brought a lot of the sex in the city. But it's still exciting to see the gals in this totally different stage of their lives, with a whole new set of problems than what they dealt with in their 30s.
Since the first episodes of the revival aired, there have been a lot of mixed reviews from fans. But I'm honestly curious to see where things go, especially since the cast has added some interesting new characters, like Sara Ramírez's Che Diaz, the show's first nonbinary character, who we haven't quite gotten to know all that well.
So if you're sticking with the program, here's everything you need to know about the coming episodes.
When do new episodes come out? Where can I watch them?
The show premiered its first two episodes on Thursday, December 9, and those are already available to stream exclusively on HBO Max. But the rest of the season won't be coming out two at a time. New individual episodes will be dropping every Thursday at 12:01 a.m. PST/3:01 a.m. EST until the end of the season.
I wouldn't exactly advise staying up to an ungodly hour just to see the latest episode. We're all adults here. That's totally up to you, your sleep schedule, and your level of SATC obsession.
WATCH AND JUST LIKE THAT… HERE
How long is each episode?
The running time for every episode is roughly 42 to 44 minutes. Not too long that it'll give you butt cramps on the couch, but not too short that it'll leave you hanging. Just right.
How many episodes will there be?
And Just Like That… is a limited series, so there are only 10 episodes total. But it's a good thing HBO decided to do weekly releases instead of all at once, because these episodes are just enough to hold us over until after New Year's. The last episode comes out on February 3, 2022.
Is there going to be more after season 1?
HBO has yet to confirm whether a second season is coming. But there are rumors going around that there might be. So don't give up hope! Maybe Samantha will show up in the next season? Or maybe there will be a spinoff starring Charlotte's daughter Lily (Cathy Ang)? Who knows? They said they were through after the second movie, and here we are. Anything can happen.
Source: Read Full Article