Nineties popstar unrecognisable 30 years after smash hit album, band lip syncing row and quitting music | The Sun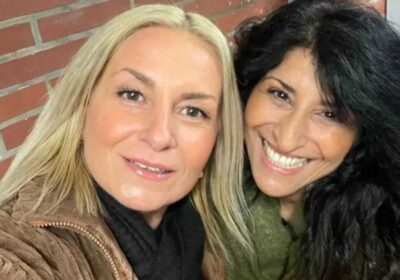 KARIN Kasar looks very different from her days singing with the pop band Real McCoy.
The singer, who calls herself the "original voice" of the band, earned fame in the early nineties for her vocals.
Despite having talent, another member of the band, Patricia Petersen, lip-synced along to Karin's singing.
The band was originally known in Europe as "MC Sar & The Real McCoy" and only consisted of rapper Olaf "O-Jay" Jeglitza before he was joined by Patricia.
For their second single "It's On You", their record label wanted them to produce a music video and put on live shows.
Olaf didn't want to be the face of the group, so he hired George Shampro Mario to lip-sync his vocals.
read more on nineties stars
THINK HE'S FAMILIAR?
Nineties pop legend looks unrecognisable 30 years after string of hits
TAXMAN TROUBLE
I was on Minder but was left homeless after running up £25k debt
While they were working on their second album, record bosses said they "weren't happy" with Patricia's vocals.
This was when Karin came in. She was hired to sing on the album, so Patricia could lip sync over them.
The band eventually became known for being a strictly lip-syncing act.
In 1994 the band had a lucky break and their track "Another Night" reached number one on the Canadian dance/urban chart.
Most read in Music
THINK HE'S FAMILIAR?
Nineties pop legend looks unrecognisable 30 years after string of hits
'REMARKABLE' TALENT
The Voice Kids and Amazon Prime star dies aged 17 as fans pay tribute
GONE COLD
Furious protesters march against Coldplay concert taking place in their city
NEW DIVIDE
I was in a huge 90s rock band that sold millions of albums – but I'm suing them
Following their success in Canada, record bosses decided to take the European band to the U.S.
The single peaked at number three in the American charts and then went onto reach platinum status.
Karin was then replaced in 1998 by Lisa Cork and in 1999 and 2000 the band released more singles with an all new line-up.
However, both singles flopped and the new line up was quickly canned.
Then in 2016, Karin made her comeback with Olaf and they enjoyed success together.
They performed as a live duo act and played at festivals all over the world.
In 2020, Karin announced to her fans on Instagram that she was retiring from performing with the group.
She has continued her solo career, largely singing in bars and small gigs.

Source: Read Full Article