Nicolas Cage Regrets Eating Cockroach in 'Vampire's Kiss': 'I'm Sorry I Did It at All'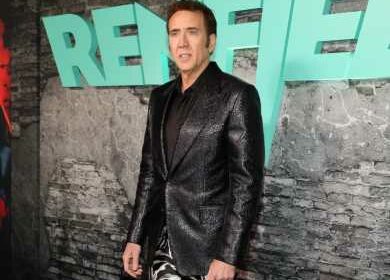 There are countless reasons why "Vampire's Kiss" is a memorable entry in Nicolas Cage's filmography. For one, Robert Bierman's 1988 horror satire is the film that saw Cage give one of the most iconic monologues of his career when he famously recited the entire alphabet in a fit of rage. It's also a reminder that there was a time when a story about publishing executives looking for a misplaced piece of paperwork (with a side plot about vampires) could be a viable movie. And, of course, it's the film where Cage ate a real cockroach on screen.
As Cage's well-deserved reputation as an actor who gives everything to each role has grown over the years, so has the mystique around the "Vampire's Kiss" cockroach scene. But the star isn't nearly as proud of the gag as you might think.
Speaking to Yahoo Entertainment to promote their new vampire comedy "Renfield," Cage and his co-star Nicholas Hoult reflected on the legacy of the cockroach scene. Cage recalled that Bierman forced him to do a second take of the gross stunt as a joke, before adding that Hoult's onscreen bug-eating chops already rival his own.
"I ate it twice because the director did it just to prank me," Cage said of the scene. "But yeah no, I'm not one to give advice, but he ate a potato bug, so he took it to another level."
Hoult deflected some of the praise and made it clear that he still thinks Cage's scene was a bit more impressive than the bug he had to eat in "Renfield."
"No, the cockroach is worse than a potato bug," Hoult said. "I think. I don't know because the cockroaches I got to eat in this were caramel."
Ultimately, Cage revealed that eating bugs was a step too far even for him. Despite the scene helping turn "Vampire's Kiss" into a cult classic, he said that he still regrets doing it.
"Oh, but he ate a real potato bug, which is terrifying to me and so are cockroaches," Cage said. "I'll never do that again. I'm sorry I did it at all."
Source: Read Full Article