Nicolas Cage Cast as Dracula in Universal Monster Movie 'Renfield'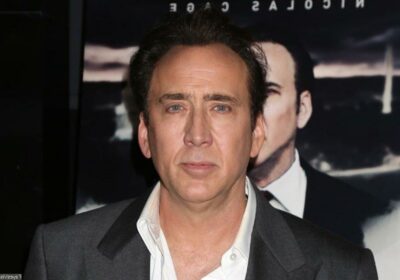 The 'Ghost Rider' actor will star opposite Nicholas Hoult in the movie which is described as an origin story of the vampire count's infamous acolyte and henchman.
AceShowbiz –Nicolas Cage is sucking on blood for his next acting gig. The actor has landed a role in Universal Pictures' upcoming monster movie "Renfield", set to play none other than Dracula the vampire, according to The Hollywood Reporter.
The movie itself won't be focusing on the infamous vampire, but rather his notorious lackey. In a possibly confusing coincidence, Nicholas Hoult is cast as the titular character, the vampire count's infamous acolyte and henchman.
The character of Renfield originated in Bram Stoker's 1897 novel "Dracula" as a patient in an asylum obsessed with drinking blood. He was thought to be suffering from delusions that compelled him to eat live creatures in the hopes of obtaining immortality, until it's later revealed that he's under the influence of one Count Dracula.
Billed as an origin story, "Renfield" is expected to take place in the present day. It's unknown how much it will stick to the source material, but the upcoming movie is described as a modern-day adventure story that is comedic in tone.
Chris McKay, who directed Amazon's "The Tomorrow War" and "The Lego Batman Movie", is on board as the helmer for "Renfield". Ryan Ridley ("Rick and Morty") is penning the script, with McKay and Robert Kirkman producing along with David Alpert, Bryan Furst and Sean Furst. McKay's producing partner Samantha Nisenboim is exec producing.
"Renfield" is Universal's next attempt to build a cinematic universe around characters from the studio's vast monster vault. Tom Cruise's 2017 reboot "The Mummy" was intended to kick start the cinematic universe, but it tanked on box office. The studio then shifted its strategy away from interconnected stories and instead began to focus on standalone features.
What followed afterward was 2020's "The Invisible Man" starring Elisabeth Moss. It grossed $143 million worldwide, far less than "The Mummy" reboot which made $409 million globally, but it cost only $7 million to produce, while the Cruise-starring flick cost nearly $200 million to make.
For Cage, "Renfield" marks his first major studio movie since 2011's "Ghost Rider: Spirit of Vengeance". He will next star in Lionsgate's "The Unbearable Weight of Massive Talent", which is set hit theaters on April 22, 2022.
Source: Read Full Article