Nicholas Hoult, David Corenswet and Phoebe Dynevor in Contention for 'Superman: Legacy' Roles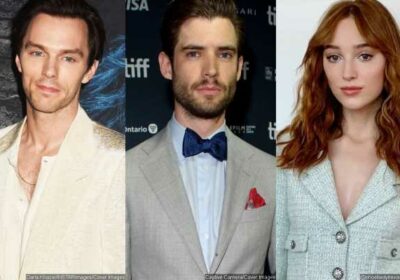 The 'Renfield' actor is tipped to play the classic villain Lex Luthor, the 'Hollywood' star is the reportedly the frontrunner to play Clark Kent and the 'Bridgerton' actress is in the mix to play Lois Lane.
AceShowbiz -"Superman: Legacy" is moving forward with casting being underway. As the search for the next Man of Steel is currently on, several names have been rumored to be circling some key roles in the upcoming DCEU movie.
According to The Hollywood Reporter, Nicholas Hoult has been tipped to play the classic villain Lex Luthor. The "Renfield" star's name has been linked to the project for several weeks now with some theorizing that he could be up for the role of Superman.
However, the outlet claims that he's actually eyed for the part of the bald-headed evil genius. "The studio has loved him since '[Mad Max: Fury Road]'," a source tells the site.
Meanwhile, David Corenswet is allegedly the frontrunner to play the titular superhero. The actor, who recently starred opposite Mia Goth in "Pearl", is advancing to the screen test stage that will likely take place after Memorial Day or early June, according to multiple sources.
Two other contenders could also be in the mix, but their identities are still undisclosed. Jacob Elordi previously surfaced as a potential actor to take the part, but the "Euphoria" star never submitted himself into the ring.
As for Lois Lane, several names are being linked to the role, including "Bridgerton" star Phoebe Dynevor, Emma Mackey of Netflix's series "Sex Education", Emmy-winning actress Rachel Brosnahan and "Scream VI" star Samara Weaving. "The Marvelous Mrs. Maisel" star Brosnahan is said to have delivered an "outstanding" audition, but at 32, she might be not the Lane that James Gunn is looking for, which is a heroic Metropolis character in her twenties.
"Superman: Legacy" will be the first project in the new DC Universe as supervised by Gunn and his DC Studios co-head Peter Safran. Gunn is set to direct with the script that he also writes.
On April 18, he took to his social media pages to share a picture of the script to announce that pre-production on the film has officially begun. "I'm honored to be a part of the legacy. And what better day than #SupermanAnniversary Day to dive fully into early pre-production on #SupermanLegacy?" he wrote in the caption, adding, "Costumes, production design, and more now up and running."
The movie is expected to be released sometime in 2025.
You can share this post!
Source: Read Full Article