Nicholas Braun Relives 'Law & Order: SVU' Cameo: Christopher Meloni 'Pinched Me in the Ribs' Every Take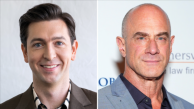 Nicholas Braun thought one of his first acting roles would be his last.
The former child star and "Succession" fan favorite revealed that during a cameo on "Law and Order: Special Victims Unit," he thought he "did so badly" due to how co-star Christopher Meloni reacted during each take. Braun appeared in Season 3, Episode 17, titled "Surveillance," which aired in 2002.
"It was a very exciting role. I played, I think, a character without a name, 'Boy in Internet café' because those existed at the time," Braun said during the March 16 "Live With Kelly and Ryan" episode. "I was looking at a video of the woman who got murdered or sexually assaulted, because that's the show. And then Chris Meloni and Ice-T, I think, come and sit down and are like, 'Why are you watching this video?'"
Braun continued, "And actually it's funny because Chris Meloni didn't think I was getting scared enough by them as cops, so when he comes and sits down, he would pinch me in the ribs. Every take. At the end of the day, I thought I did so badly. I needed a pinch in order to…because he needed me to go, 'Ahh,' or I guess I was supposed to go, 'Oh, cops!' But instead I was like, 'Oh ow!'"
The "Cat Person" actor added, "I was probably 11 or 12. That was my 'SVU' initiation."
Braun recently reacted to the announcement that the upcoming fourth season of "Succession" is the series' last.
"We were expecting it while we were making the show, but you don't believe it till [creator] Jesse [Armstrong] says it," Braun told Entertainment Tonight. "We're all pretty bummed. I was sad as hell [on] my last day. I finished a couple of weeks ago, and it was a really tough day, you know, saying goodbye to everybody. It's been the greatest working experience in my life. So, saying goodbye to those people is really tough."
The fourth and final season of "Succession" marks an end to the battle between Logan Roy (Brian Cox) and his children, played by Jeremy Strong, Sarah Snook, Kieran Culkin, and Alan Ruck, over the reins of Waystar Royco. Alexander Skarsgård reprises his role of tech visionary and possible Royco buyer Lukas Matsson, while Braun's Cousin Greg and Matthew McFayden's Tom deepen their alliance. The series returns March 26.
Source: Read Full Article