NCIS Hawaii's Vanessa Lachey left in tears over Love Is Blind reunion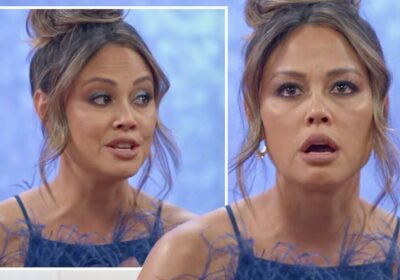 Love Is Blind: Season three official trailer
We use your sign-up to provide content in ways you've consented to and to improve our understanding of you. This may include adverts from us and 3rd parties based on our understanding. You can unsubscribe at any time. More info
Season three of Netflix's groundbreaking dating series Love Is Blind has come to an end with each of the couples returning earlier this month for the unmissable reunion. Nick Lachey and his wife, NCIS Hawaii's Vanessa Lachey, were also back to grill each of the stars about their romances and whether any of the couples had stayed together now the experiment had ended.
WARNING: This article contains spoilers from the Love Is Blind season 3 reunion.
The reunion was always going to be an emotional affair for each of the stars as they finally got their chance to tell their co-stars the ins and outs of their marriages, whether failed or successful.
But it wasn't just those involved in the romances who were visibly moved by the experiment as Vanessa too struggled to maintain her composure.
The NCIS Hawaii star became overwhelmed when she and Nick turned to stars SK and Raven for an update after the former said "I don't" at the altar.
"Now, let's shift our focus a little bit to Raven and SK," Nick said as he teed up the conversation.
Vanessa soon took the reins as she felt it necessary to tell SK and Raven the impact their vows had on her.
She recalled: "You guys, without a doubt, for me, this as one of the most heart-wrenching moments…
Vanessa stopped herself as she began to tear up: "Right now…"
The Love Is Blind host powered through her tears and said: "Watching your [SK] mother put the veil on her, I was done. I was done.
"I sat there, and just because also, your family wasn't there [Raven]. And that is such a beautiful bonding of the women but to see her sit there and say, 'I do, I do'.
"And you [SK] say, 'I do not', it was like my heart feel to the floor," Vanessa admitted.
Still struggling to compose herself, she eventually asked: "I… I couldn't believe it. Raven were you blinded by that moment as well?"
"Clearly, I was very, very, very emotional that day," Raven replied before she too became choked up.
DON'T MISS:
NCIS season 20 sees Delilah return sparks concern after ties to a case
Blue Bloods season 13 theory: Frank to step down as commissioner
NCIS LA crew member sparks frenzy with Kensi and Deeks snap
"I'm like, 'Try not to be emotional'," Raven added as she fanned her eyes. "So I wouldn't use the word blindsided.
"I think I was just unprepared for… I hadn't prepared myself. I was a little shocked."
Nick then asked SK at "what point" he knew wasn't going to say "I do" at the altar.
SK answered: "For me, it was also equally difficult, especially having, you know, a lot of my friends, family there.
"I didn't know until the very moment when the question was asked, honestly."
"What?!" a gobsmacked Vanessa replied as SK explained: "To me, I just feel like we would be going through much more trouble going forward with me saying yes. Did I want that ultimate happy ending? Absolutely.
"But me having to leave and her not wanting to move at the time, all those things put together was what ultimately led me to say, 'No'.
However, there was a happy ending for SK and Raven as they revealed at the reunion they have begun dating since and remain a happy couple.
Love Is Blind seasons 1-3 are available to stream on Netflix now.
Source: Read Full Article