NCIS Hawaii's Jane Tennant set to reunite with Captain Milius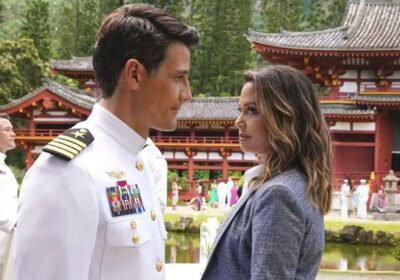 NCIS Hawaii: CBS teases episode 'Unusual Suspects'
We use your sign-up to provide content in ways you've consented to and to improve our understanding of you. This may include adverts from us and 3rd parties based on our understanding. You can unsubscribe at any time. More info
Since the NCIS franchise expanded with its Hawaiian spin-off, fans have remained glued to CBS to see how agent Jane Tennant (played by Vanessa Lachey) and her team will tackle crime. It looks as though Tennant's pulse could be rising in more ways than one, with the return of her former love interest, Captain Joe Milius (Enver Gjokaj).
Throughout season one, Joe made a huge impression on fans and won hearts with his regular appearances.
The high-ranking officer also made his feelings for Tennant well-known with his flirty banter.
This was welcomed by the captain as she also reciprocated the flirtationship before finally accepting his offer of a date.
Although they hit it off, it wasn't meant to be as Joe was reassigned to a new position in Washington.
Watch all episodes of NCIS: Hawaii on Disney+
View Deal
Even though months have passed, there could still be a chance of Tennant finding romance as Joe will be back in Hawaii.
The upcoming 17th episode, titled Money Honey, will see the two reunite for a high-stakes mission.
The synopsis confirmed: "Captain Milius returns to Hawai'i as the NCIS team works to catch a dangerous high-value U.S. Government target with the help of an informant unlike any they've ever encountered.
"Also, Tennant and Daniel deal with Alex's acceptance into the Naval Academy."
Although his return may not be romantically motivated, viewers could still see sparks fly between Tennant and Joe.
While fans had hoped to see more romance from them, Enver was forced to step back from the CBS drama after landing a role a recurring role in the SyFy series Resident Alien.
At the time of the actor's departure, NCIS showrunner Jan Nash stated: "He is a super-talented guy and he got another job, so he has not been available to us at the beginning part of this season."
Despite this, Enver's return to Hawaii was teased as the bosses remained hopeful.
DON'T MISS…
The Apprentice star details private conversation with Lord Sugar [INSIGHT]
NCIS LA's Caleb Castille shares peek at set as season 14 wraps [INSIGHT]
NCIS LA's Daniela Ruah leaves fans in tears with Kensi farewell [REACTION]
The producer told TV Line: "But we are hopeful that as what is currently his day job winds down that we'll be able to see him again."
"We love him. Enver is a great guy. He is great as Joe Milius, we love that dynamic, so we're hopeful."
If Tennant and Joe are able to pick up where they left off, fans will see a new side to the no-nonsense special agent.
As a single mother and a boss, a new romantic relationship would add a new dimension to her.
As well as its gripping investigations and nail-biting rescue missions, NCIS Hawaii is also loved for its romantic storylines.
This was seen in the recent episode, as fans were overjoyed to see Lucy Tara (Yasmine Al-Bustami) return home early from her Special Agent Afloat job.
After weeks of waiting she was finally able to reunite with her girlfriend Kate Whistler (Tori Anderson).
As they were separated for so long, the couple couldn't help kissing in front of everyone at the party, even letting their colleagues know they were in love.
NCIS: Hawaii season 2 continues Monday, March 13 on CBS in the USA and is available to watch on Disney+ in the UK.
Source: Read Full Article