NCIS 2021: CBS announces new season 18 series regular in wake of Maria Bello exit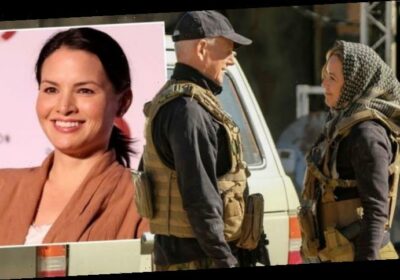 NCIS: CBS release season 18 teaser for 'Watchdog' episode
When you subscribe we will use the information you provide to send you these newsletters.Sometimes they'll include recommendations for other related newsletters or services we offer.Our Privacy Notice explains more about how we use your data, and your rights.You can unsubscribe at any time.
Jack Sloane (played by Maria Bello) left NCIS fans heartbroken halfway through season 18 as she bid farewell to Gibbs (Mark Harmon) to begin a new life in Afghanistan. However, just as one familiar face leaves, CBS has revealed another will arrive as a recurring cast member ahead of a possible 19th season.
Earlier this week, it was announced that actor Katrina Law will be joining Gibbs and co on NCIS towards the end of season 18.
Law will take on the role of NCIS REACT Special Agent Jessica Knight whose expertise lies in hostage negotiation.
As reported by Deadline, Special Agent Knight is described as "sharp, athletic and tough" who's no stranger to dealing with the high stakes and risks of law enforcement.
Law will first appear in the final two episodes of NCIS season 18 with the prospect of another series if CBS renews the hit crime drama.
Reacting to the announcement, Law kept her excitement short and sweet as she took to Twitter.
To her 125.3k followers, Law shared a series of hand and cat emojis to mark the news.
Needless to say, it didn't take long for NCIS and Law fans to weigh in with their messages of excitement at seeing her pop up in the CBS drama.
One fan replied: "I am SO happy to see you on NCIS!! I was TOTALLY disappointed about Hawaii-Five0 getting cancelled after you joined the cast."
A second agreed: "Can't wait to see you as a regular again on TV! I was hoping Hawaii Five-O would go on longer so we could see more of you."
"I can't wait Katrina you will be a great addition to this great cast [smile emoji]," added a third.
While a fourth weighed in: "No way! This is amazing!! I can't wait, love your work and you'll make a great addition."
And a fifth echoed: "Congratulations! It's been a while since we've heard from you – glad you're joining a quality show like NCIS."
DON'T MISS:
Mark Harmon children: Does NCIS star Mark Harmon have children?
NCIS LA: Fans left fuming at Paramount Plus as episodes 'missing'
NCIS Hawaii: Tony DiNozzo to head next spin-off in new fan theory
Law had been a regular presence on CBS for her role on Hawaii Five-0 in the part of Quinn Liu.
However, the drama came to an explosive close last year after 10 seasons.
The CW viewers are also familiar with Law's work as she's been a pivotal part of hit fantasy drama Arrow since 2014.
But Law's CV also boasts a number of other high-profile roles NCIS fans can catch her in.
Prior to her arrival on NCIS, Law has also starred in Facebook Watch drama Sacred Lies, The Oath, and CBS action series Training Day.
On the big screen, Law has also racked up a number of impressive credits.
She's starred in blockbusters Darkness Rising, Zeroes, Death Valley, and Mafiosa.
NCIS season 18 continues Tuesdays on CBS in the USA.
Source: Read Full Article