My 600lb fans fume as Latonya Pottain fails to follow diet regime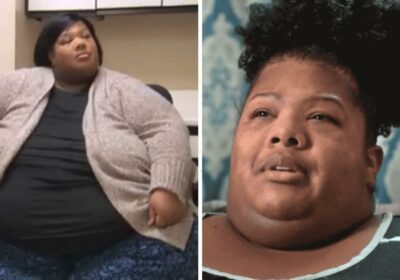 My 600Lb Life: Latonya discusses her obesity in therapy session
We use your sign-up to provide content in ways you've consented to and to improve our understanding of you. This may include adverts from us and 3rd parties based on our understanding. You can unsubscribe at any time. More info
TLC's hit reality series My 600lb Life season 11 returned to screens to follow Latonya Pottain's weight loss journey as she tried to get her obesity under control. However, her constant failure to listen to life-saving advice infuriated viewers.
On Wednesday's episode, Latonya returned to Dr Younan 'Now' Nowzaradan's offices to get her weight under control.
She first visited Dr Now five years ago after struggling with her mobility but refused to commit to the program after failing to attend her second appointment.
This time Latonya found the man she wanted to marry but was worried she wouldn't be able to walk down the aisle.
When she first visited Dr Now, Latonya weighed 482lb and has since gained another 150lbs.
Speaking to Dr Now, Latonya revealed she was more motivated to lose weight after receiving support from her family and fiance, Duane.
In order to walk down the aisle, Dr Now stressed the importance of weight loss and the need to improve her mobility, so she longer had to rely on her powered wheelchair.
Although she was issued a plan to lose 40–60lbs in a month and a therapist, Latonya failed to follow through.
Fans took to Twitter with anger as the 37-year-old refused to commit and made up excuses for not eating the high-protein meals.
A furious @Free2BMia tweeted: "Latonya has an excuse for everything, even from her hospital bed. Girl, follow your dietitian's rules and stop complaining."
@alexbran1227 stated: "Omg I remember Latonya. She is infuriating. Wasting Dr Now's time."
A third viewer @BlackBougieGurl stated: "This lady is hopeless. Complaining too f*****g much and trying to tell him about biology/medicine/science."
@veggie64_leslie fumed: "This woman is a piece of work. Arguing and being hateful to people trying to help her save her own life."
@cquiller1 added: "Latonya wasted two hours of my life. How do you come to Dr Now not once but twice and still don't lose weight?
As @HeidiAguayo10 complained: "Why go to Dr Now if you know d**n well you're not going to do it or not even try. Just a bunch of excuses girl stop wasting his time." (sic)
Latonya was admitted to the hospital after she complained about cardiac difficulties and was put on a strict diet plan.
While Dr Now kept her in longer for further testing, she remained disobedient and hit back at the doctor about the meals.
She despised the dish stating they tasted like "dog food", but despite this, Latonya lost 48lbs in two weeks, dropping her weight to 594lbs.
Dr Now explained the high-protein meal consisted of beans and meats to provide adequate nourishment.
He also revealed her lung capacity is limited and her heart's fourth chamber is overextended.
Although he warned her about the damage she was doing to her health Latonya returned home, only to gain 5lbs by her next appointment.
My 600lb Life continues Wednesdays on TLC in the US.
Source: Read Full Article