More murder shocks in Corrie as a third dead body is found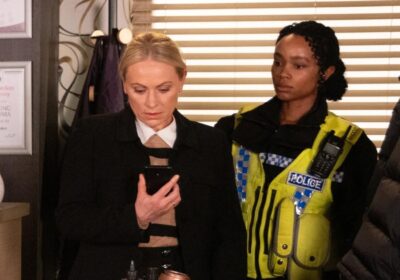 Stephen Reid's (Todd Boyce) reign of terror will come to an end next week in Coronation Street, but he isn't leaving the cobbles without causing more havoc.
After killing Leo, Teddy and Rufus, Stephen is now aware that time is running out.
While Stephen plans an escape to Thailand, Carla (Alison King) is talking to DS Swain (Vicky Myers) about being drugged with LSD by the evil businessman.
Swain explains that the police can't do anything right now as Carla doesn't have evidence, but she then presents the detective with one-way tickets to Thailand and says Stephen might be a flight risk.
To view this video please enable JavaScript, and consider upgrading to a webbrowser thatsupports HTML5video
Elsewhere, Tim (Joe Duttine) is distracted from Sally's (Sally Dynevor) plans for their wedding anniversary due to a comment from Brian (Peter Gunn), who mentions Stephen's interest in the canal dredging project.
With that, Tim makes his way to the canal towpath and finds a discarded boat hook. He begins poking around in the water and to his horror, a corpse's hand floats up to the surface.
Fleeing back to his cab, Tim dials 999 and reports finding a dead body, but the phone cuts out.
Before he can call back, Tim is aghast when Stephen climbs into the back seat of the cab and attempts to strangle him with a tie.
Fortunately, Tim manages to make a bid for freedom but then trips on his shoelaces!
He clambers to his feet, only to be knocked unconscious by Stephen with a brick.
As Stephen returns to Weatherfield and confirms he will be flying to Thailand tomorrow, no one is aware Tim is fighting for his life in the boot of his car after Stephen doused it in petrol.
And while this is unfolding, Craig (Colson Smith) and Swain are at the canal, watching their colleagues remove the roofbox which contains Teddy's body.
As the truth is slowly revealed, will Tim become Stephen's fourth victim as he remains trapped in his car?
And can the police work out Stephen was responsible for Leo, Teddy and Rufus' deaths?
Source: Read Full Article