Masked Singer Jacket Potato 'exposed' – TV legend, 90s pop icon, EastEnders star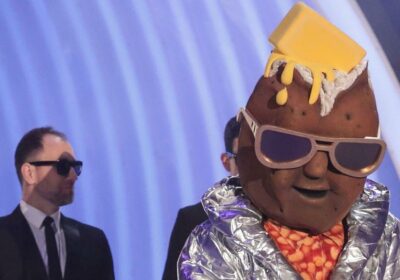 Speculation is growing over the identity of Jacket Potato on The Masked Singer – and fans think they have worked out who it could be.
A number of stars have had their names thrown into the ring as the latest series of the popular ITV singing competition gets underway, with comedians, rock stars, TV hosts and more potentially hidden behind the mask.
The character has also given clues away from their outfit and renditions of popular hits – but who is Jacket Potato?
READ MORE: Rita Ora's hottest on-screen moments – see-through dress, Fifty Shades and hot pants
As The Masked Singer continues, Daily Star takes a look at the celebrities that fans think could be behind the character.
Bradley Walsh
Before Jacket Potato even took to the stage to perform, fans were already speculating that The Chase star Bradley Walsh could be behind the mask.
Viewers made the connection between the name of Bradley's production company – Potato – and the character, with one saying on social media: "Bradley Walsh for Potato – his company name."
Other fans seemed to agree to, with some replying to the comment saying "Yes!" while another added: "OMG can't wait" followed by heart eye emojis.
Happy Monday's Bez
Both The Masked Singer and Dancing On Ice have returned to our TV screens in recent weeks – and fans think that there could be a connection between the two.
Happy Monday's Bez became a fan favourite when he took to the floor for Dancing On Ice in 2022, and now some viewers think he could be Jacket Potato.
After the character wowed judges with a rendition of Hallelujah by Leonard Cohen, they also made an appearance on the 2023 series of Dancing On Ice.
Fans could not help but make a connection between the two programmes, with one suggesting: "OH MY GOD JACKET POTATO IS BEZ."
A second agreed: "That's what I said too."
"Jacket Potato is clearly Bez," added a third.
Richie Sambora
From popstar to rock star, as some fans are convinced that Jacket Potato could really be iconic Bon Jovi guitarist Richie Sambora.
One fan suggested the theory on Twitter and pointed out a number of clues that hinted the iconic guitarist could be behind the mask.
Clues included the use of the word "woah" during Jacket Potato's introductory statement on the show, which they said could be linked to the memorable "woahs" in Bon Jovi's anthem Living On a Prayer.
Jacket Potato could be heard saying: "Hey it's me Jack, Jacket Potato. I've got quite the collection, so big, you'll say 'woah'."
Not only that, but the fan also made links between a book the character was holding, which had a heart and dagger logo that bears resemblance to the Bon Jovi band logo – as well as the Wild Hog ticket on the character's waist, which they suggested could make reference to the 2007 film of the same name that featured two of the band's songs.
Other fans took to social media to agree that Jacket Potato could be the star following the clue hints, with a second adding: "Has to be Sambora," while a third commented: "Yes, 100% I'm sure it's Richie!"
A fourth agreed: "Sure sounds like him," with a fifth saying: "Just give it a listen. 100% Richie."
"Richie has an incredibly distinctive voice. If it's not him, someone else does a damn good impression with the singing," added a sixth fan.
Shane Richie
Away from music, lots of fans have taken to social media to speculate that Jacket Potato could be EastEnders star Shane Richie.
The Alfie Moon actor seems a popular choice with viewers, with one saying: "Jacket potato is blatantly Shane Richie. I bet you all 50p."
"Shane Ritchie has to be Jacket Potato," said another, with more fans suggesting the same.
"Think I've cracked a few on Masked Singer UK this week. Jacket Potato sounded like Shane Richie," they said.
A fourth said: "Tonight's is too easy. Jacket potato is Shane Richie and Fawn is former Chancellor of the Exchequer, Kenneth Clarke. Simple. #MaskedSingerUK."
"Bet anyone £1 it's Shane Richie on @MaskedSingerUK #maskedsinger #MaskedSingerUK," added a fith.
Brian Conley
Although Shane Richie is still a favourite for Jacket Potato, other fans think another EastEnders star could be hiding behind the mask.
Some have flocked to social media to suggest that Rocky actor Brian Conley could be the character instead after hearing Jacket Potato's rendition of Viva Las Vegas.
One said: "Having watched the clip of Jacket Potato on #maskedsingeruk again, I am convinced it's the brilliant @RealBrianConley singing Viva Las Vegas. Can't wait to see if it's him."
"Just caught #MaskedSingerUK and the Jacket Potato also sounds like Brian Conley," agreed a second.
"Speaking in an American accent but I don't think they are American. No idea from the clues BUT their voice sounds very familiar. It sounds like Rocky from EastEnders, so I would guess Brian Conley," added a third.
A fourth commented: "Right so we think Pigeon is Catherine Tate, Jacket Potato is Brian Conley and Rhino is Charlie Simpson," while a fifth added: "Jacket Potato is Brian Conley."
However, fans seem split over which EastEnders star could be behind the mask.
When one viewer posted a poll on Twitter asking if Jacket Potato was Brian Conley or Shane Richie, more than 65% of users voted that their real identity was Alfie Moon star Shane.
Meanwhile, only 35% agreed that Jacket Potato was Brian Conley.
Brian Harvey
It's not unusual for a popstar to be behind the mask, and some fans think that Jacket Potato could be East 17's Brian Harvey.
Fans have flocked to suggest that he could be the character since before the show began, with one saying: "So wanted Jacket Potato to be Brian Harvey of E17/jacketpotatogate."
"They've not missed a trick putting Brian Harvey in the Jacket Potato costume," said a second, while a third added: "Imagine if Jacket Potato is Brian Harvey."
"Hope Jacket Potato is Brian Harvey," added another.
A fourth agreed: "I haven't heard any of the clues yet, but I want Jacket Potato to be Brian Harvey so much."
"Honestly my fingers are crossed for Brian Harvey," said a fifth.
Matt Lucas
Other fans have suggested that The Great British Bake Off star Matt Lucas could be behind the mask, after the TV presenter and actor released the song 'Thank you Bake Potato' in 2020.
One fan said: "Matt Lucas = Jacket Potato."
"People are saying Jacket Potato is Matt Lucas, which could be possible. He did a song called Baked Potato years ago," agreed a second.
"Jacket Potato is Matt Lucas. Fairly confident," added a third, while a fourth said: "Jacket Potato is definitely Matt Lucas. Thank you Baked Potato!"
However, not all fans agreed, with another saying: "It's definitely not Matt Lucas. I'll have to see what the clues say."
And the rest…
A lot of names have been put forward for Jacket Potato in recent weeks – with fans throwing even more names in the ring.
These have included a famous actor and comedian, with one fan saying: "Johnny Vegas"
A second asked: "What about Johnny Vegas? Potato keeps doing these Elvis moves. Elvis lived in Vegas and Johnny Vegas does a show about a potato."
Viewers have also suggested comedian Bob Mortimer, with one fan saying: "He's definitely got that air of Butlins Red Coat so I'm saying Shane Ritchie.
"But his Elvis [impression] was straight out of the Bob Mortimer playbook on those Vic and Bob sketches so could also be him."
"I thought Jacket Potato sounded like Bob Mortimer!" agreed a second.
Meanwhile, other fans have suggested stars including Keith Lemon, rock icon Billy Idol, Professor Brian Cox and TV chef Gino D'Campo.
However, with weeks still yet to go on The Masked Singer, viewers may just have to wait a little bit longer to find out who is really behind Jacket Potato.
The Masked Singer airs Saturdays on ITV1 and ITVX
For more of the latest showbiz news from Daily Star, make sure you sign up to one of our newsletters here.
READ MORE:
The Masked Singer fans 'expose' Piece of Cake's identity as Bake Off legend

Rita Ora puts on jaw-dropping display as she parades toned figure in teeny bikini

The Masked Singer's Knitting 'exposed' as pregnant Loose Women star by fans
Source: Read Full Article