Manifest's Josh Dallas and Melissa Roxburgh Reflect on That Fitting Series Finale, Reuniting With Athena Karkanis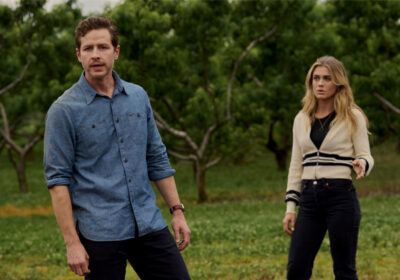 The following contains spoilers from Manifest's series finale. Proceed accordingly.
After four wild seasons, Manifest came to a fitting end as the 828ers faced their final judgement. In the series finale, now streaming on Netflix, the passengers survived the Death Date and earned a second chance at life.
They landed safely in New York City as though nothing from the last five years had happened, though their fully intact memories confirmed that it was, indeed, all real. More importantly, Ben finally reunited with Grace, who was murdered in the Season 3 finale, and Olive and Cal got to be children again. (Read our full recap for more.)
For Josh Dallas, who plays Ben, the Stones' happy conclusion is a fresh start. "With Ben, and with a lot of the other characters, I don't see it as an ending, but a new beginning," he tells TVLine. "I think it's only fitting that he is back with his one true love and he can have a second chance at his life with her and his kids. I'm excited for them."
Michaela, meanwhile, ended things with Jared and rushed to find Zeke, who was doing cab pickups and had no memory of her at all. That didn't deter the former NYPD cop from hopping into his taxi and bringing him up to speed.
"I feel good about it," Melissa Roxburgh, who plays Michaela, says of the show's ending. "I think everything was supposed to end the way it was. Even if people are upset with certain things, it's like, that's life. Things don't always work out the way we thought they'd work out, but sometimes they're better. I think they really did a good job of showing that. Some of it's not what we expected, but some of it's better."
And while Michaela's final moments were with Zeke, Melissa wrapped her final day of filming in the cockpit next to Leajato Robinson, who plays Amuta.
"It was interesting because most people had wrapped at that point. It was just me and a few other people left," Roxburgh shares. "It was an interesting goodbye. We said goodbye so many times over that week as well, but it was me and Amuta, which was really cool."
Dallas, on the other hand, closed out filming on the series with a full-circle moment.
"My very last scene in the whole thing, which is also very fitting, was with Grace," Dallas explains. "With Athena [Karkanis] at the airport, at the baggage claim. It was an amazing moment because I think my first-ever scene that I shot was with Athena. To end that way was a great bookend."
"We lost Athena for Season 4, and it felt like a limb was missing on our show," Roxburgh adds. "To see her back in the airport for that final scene… I started crying when they reunited. It felt so strange because it felt like we were actually in the show. It didn't feel like we were acting because she had actually been gone. It was interesting to watch."
Source: Read Full Article