'Magnum P.I.' Reunion: Tom Selleck & Larry Manetti Together Again For 'Blue Bloods' Episode – Photo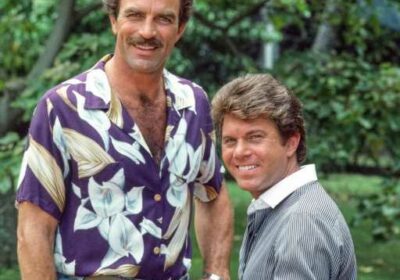 Original Magnum P.I. co-stars Tom Selleck and Larry Manetti are reuniting for an upcoming episode of Selleck's CBS drama series Blue Bloods. This is the first time the duo will act together onscreen since Magnum P.I. concluded its run in 1988.
Blue Bloods' Donnie Wahlberg shared the news on social media, writing: "It's a mini Magnum PI reunion, on the set of #BlueBloods this week, with guest star Larry Manetti & Tom Selleck — together again. Wishing the late greats Roger E Mosley & John Hillerman could be here, too."
The accompanying photo also features current members of the Blue Bloods cast, including Bridget Moynahan, Andrew Terraciano, Will Estes and Vanessa Ray.
Related Story
How To Watch The NAACP Image Awards On TV
https://www.instagram.com/p/CpLR72JuSYx/
https://www.instagram.com/p/CpLR72JuSYx/
A post shared by DONNIE WAHLBERG (@donniewahlberg)
Manetti, who played Orville "Rick" Wright to Selleck's titular private investigator on Magnum P.I., which ran from 1980-1988, went on to appear in such series as Walker, Texas Ranger and JAG, as well as the reboots of Hawaii Five-0 and the more recent Magnum P.I.
Blue Bloods, now in its 13th season, stars Selleck as New York Police Commissioner and family patriarch Frank Reagan.
Blue Bloods remains a Top 5 scripted series on CBS and a cornerstone of the network's formidable Friday lineup. As Deadline recently reported, the cop drama is in active renewal negotiations and the network is hopeful to have the show back for Season 14.
Produced by CBS Studios, it has been a moneymaker for the company with strong performance on CBS, where it has been holding steady year-to-year and even adding a few eyeballs, in syndication and internationally.
Must Read Stories
Hot Off SAG Awards Triumph, 'The Whale' Star Brendan Fraser Inks With CAA
'Triangle Of Sadness' Oscar Nominee & Palme Winner Ruben Östlund To Head 2023 Jury
Top-Tier Showrunner Meetings Set As Union Reveals Pattern Of Contract Demands
Axe Is Back: Damian Lewis Returning To Showtime's 'Billions' For Season 7
Read More About:
Source: Read Full Article