MAFS UK star Matt Jameson opens up on 'heartbreaking' split from co-star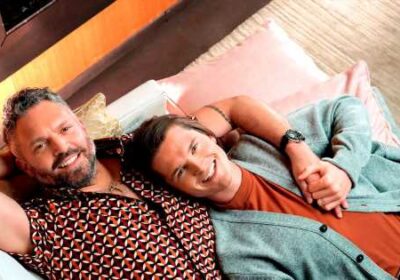 Married At First Sight UK star Matt Jameson has shared the emotional journey of his "heartbreaking" separation from Daniel McKee.
Matt and Daniel, who made history as the first-ever gay couple on the show in 2021, enjoyed a loving two-year relationship before parting ways in December last year.
In an exclusive interview with The Mirror, Matt discussed the significant pressure he and Daniel felt when they had to announce their breakup, as they had a strong sense of responsibility to their fans.
Matt explained: "We fell in love, we had a great relationship, I don't want to take that away. I had an incredible experience being on the show, and me and Dan enjoyed that journey together."
The breakup was challenging, and the added pressure of feeling like they were letting down the LGBTQ+ community and their supporters made it even more difficult.
Matt described the situation, saying: "Knowing that's in the public eye and everybody's gonna have an opinion, it was an added pressure because we were a little bit like the 'golden gay couple' for a time. Everybody was rooting for us, everybody was saying how great we were together."
Even after their split, Matt still receives messages from fans about his relationship with Dan when he posts about watching the current Married At First Sight series. He revealed: "People are still messaging and saying, 'It's such a shame you and Dan didn't stay together. We thought you were going to go the distance.'"
The breakup took a toll on Matt, who admitted that the public nature of their relationship added more pressure and sadness. It took him a significant amount of time to heal and move forward.
Sharing the news to Instagram at the time, Dan wrote: "Hey guys! As you all know, we have been on an incredible adventure together the last two years and we have given ourselves every opportunity to make things work as a couple, but over the last few months we have realised that we are actually better as friends."
He continued: "Break ups are never easy, even when amicable, but we can't thank you enough for your support and kindness following our journey together.
"There's nothing but love and good energy between us, and we feel very lucky to have found each other in our lives. Just sadly not as a couple! And although we are parting ways, we will always continue to support one another.
"Sending love to everyone. Dan and Matt xx".
The pair had previously opened up to OK! abouttheir plans to have a real wedding.
Matt told us at the time: "We were at one of Dan's friend's weddings recently and we got chatting with a wedding planner. It's definitely something we're thinking about.
"I would love it and I know Dan would as well. But we're in no rush, we're embracing what we have together right now. We've gone through this immensely intense experience."
Source: Read Full Article