MAFS stars all support Shona and Matt's secret relationship saying they're 'so proud'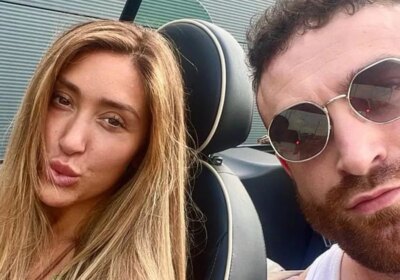 Shona Manderson and Matt Pilmoor have finally revealed they're in a relationship and their Married At First Sight UK co-stars couldn't be happier for them.
Shona, 31, and Matt, 29, exclusively shared their happy news with OK! on Thursday, 16 November, revealing they first met at the MAFS reunion back in July after appearing on the E4 show at different times. The pair went on their first date five weeks later and romance soon blossomed.
Matt and Shona had to keep their relationship under wraps until the entire series of MAFS had aired and are understandably pleased to finally be sharing their secret with everyone, including their MAFS co-stars.
Many fellow grooms and brides from the 2023 series rushed to congratulate Matt and Shona on social media after they unveiled their romance, with the pair appearing to have gained the full support of their co-stars.
"I'm so proud of you guys well done!!" Thomas Kriaras penned, while Paul Liba said: "The news everyone needed," with three fire emojis.
Jay Howard commented two lovestruck emojis while Laura Vaughan said: "Love you so so much," with two red heart emojis. Shona's ex Brad Skelly, who she was originally paired with on the E4 show, also added: "Couldn't be happier!"
MAFS fans also shared their support and surprise at Matt and Shona's romance, with one writing: "We knew it haha!!! well done guys," while a second fan said: "Love this. Very happy for you guys go take on the world".
Shona and Matt opened up to OK! about finding love on MAFS after both of their marriages didn't work out. Shona married Brad on the show, but the pair were asked to leave the experiment due to Brad's 'controlling' behaviour.
Meanwhile Matt was a latecomer on the series and wed Adrienne Naylor, but the pair also failed to make their marriage work. Shona and Matt's luck changed when they attended the MAFS reunion however, with the couple instantly hitting it off and soon arranging their first date.
It's now been almost five months since the new MAFS couple had their first date, and their romance appears to be going from strength to strength.
Beaming with happiness, Shona told us: "We have a really healthy, happy, safe, fun, relationship – I really appreciate Matt so much, it's what I deserve, we deserve each other. I'm proud to be his girlfriend and it just works."
But it hasn't come without its challenges as they kept it a secret "for months" and had to be "so careful" while Matt was still on TV. Shona explained: "Matt would be driving and I would be in the back, we would be walking around Nottingham and I'd be all the way over there, we were like secret agents on a mission".
"We had to do it, we had to be so careful", Matt added.
Source: Read Full Article