MAFS Australia experts accused of 'open hostility' toward Olivia and Jackson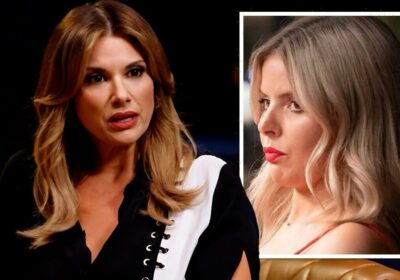 Married At First Sight: Tamara storms out during filming
We use your sign-up to provide content in ways you've consented to and to improve our understanding of you. This may include adverts from us and 3rd parties based on our understanding. You can unsubscribe at any time. More info
Married At First Sight Australia is back with season nine, which finished airing in Australia on April 3, 2022. Fans in the UK are catching up with the final reunion dinner having aired on E4. On the Kitzh and Kazandra Talk TV podcast, the hosts discussed Jackson Lonie and Olivia Frazer.
MAFS Australia 2022 has now come to an end and fans are keen to find out which couples made it through.
It is no secret that Olivia and Jackson were at the forefront of some explosive dinner parties.
The pair still appear to be together to this day, but it has not been an easy ride.
They were labelled the 'villains' of the series after Olivia exposed a nude photo of co-star Domenica Calarco.
Kitzh and Kazandra discussed the couple on their Talk TV podcast and there was no holding back.
One host said: "They have had some really hard moments but they are bursting with happiness, Olivia says.
"And Jackson wants to grow old with her, Olivia wants to have babies.
"Jackson says he has seen the worst of her and he still wants to be with the same person."
The other host quickly replied: "I do think the experts hate their guts."
They then went on to claim: "Every time they look at them I can just see 'We just hate you but I'm going to say the right words because I have to contractually.'"
The first host then added: "I think the experts are looking at them with one eye cocked.
"Going 'Mmm, just not loving you two.'"
The second host responded: "I think it's open hostility, that's what I can see.
"'My mouth is saying one thing but my face just hates you.'"
DON'T MISS…
Countryfile fertiliser row: Farmer's rage but find way to cut costs [DISCUSSION]
MAFS UK stars Adam Aveling and Tayah Victoria expecting first child [INSIGHT]
Melissa MAFS Australia: Where is Married at First Sight star now? [EXPLAINER]
Express.co.uk contacted the production company, Endemol Shine Australia, for comment.
Experts Alessandra Rampolla, John Aiken and Mel Schilling spoke to the couples during the various commitment ceremonies.
Following the evening Olivia shared Domenica's nude photo, Alessandra Rampolla sat down with Olivia and Jackson.
She told the couple: "It seems very clear that there is a grudge that's being dragged around here for you.
"Maybe there is a little room there for some self-exploration and reflection. And for a little human empathy."
Olivia and Jackson were last seen heading out on a double date with co-stars Bryce Ruthven and Melissa Rawson.
On Instagram, Olivia shared an adorable photo of herself with Jackson on their wedding day, saying: "From first sight, to my last breath, I'll be loving him."
As for Jackson, he confirmed in April 2022 that the pair were still together.
He said: "Cheers to a wild ride and here's to all the amazing people I've met through the ups and the downs. Most importantly to @olivefrazer my now girlfriend, you made it all worth it."
Married At First Sight Australia airs on weeknights on E4.
Source: Read Full Article