Love Island LIVE: Casa Amor set for epic return as relationship-busting villa revealed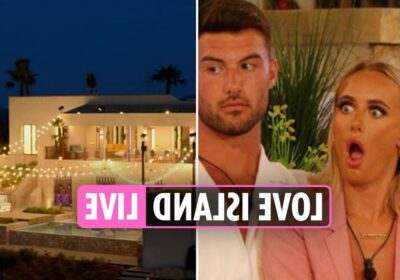 LOVE Island fans were rejoicing on their sofas as it was revealed the show's relationship-busting Casa Amor is making a comeback.
ITV2 bosses have been frantically trying to finish the spin-off villa in a bid to spice up the series with more drama between the couples.
The Sun told last month how it had been decided that the second villa would not be making a comeback, much to the despair of fans.
But tonight viewers celebrated the big reveal of Casa Amor, which is sure to test whether or not anyone's head can be turned by sexy new arrivals.
The couples will soon be whisked off to separate villas, but not before one couple is dumped from the island altogether after a public vote.
Casa Amor is likely to test the villa's stronger couples, including Jake Cornish and Liberty Poole, and Liam Reardon and Millie Court.
Read our Love Island live blog for the very latest updates on the show…
Jessica Lester

FANS SPOT CLUE THAT HUGO FANCIES CHLOE

VIEWERS have spotted a tell-tale clue that Hugo Hammond secretly fancies Chloe Burrows as they enjoyed pillow talk before bed in tonight's episode.

The 22-year-old PE teacher caused shockwaves when he saved the blonde beauty in yesterday's re-coupling, and slammed her ex Toby in his speech.

Chloe moaned to the hunk: "I just need to be a bit more careful with boys I think, and just stop being a f***ing idiot."

Hugo whispered in reply: "Why don't you just go for like… Like a nice person who will treat you well."

Taking to Twitter, one fan reacted: "Oh Hugo is defos trying to be the nice guy best friend who the girl falls in love with after she's been done over."

Jessica Lester

BOMBSHELL CLARISSE DATED EX-ARSENAL STAR ALEX IWOBI

NEW Love Island beauty Clarisse Juliette has been revealed to be a former football Wag who is already worth more than £1million.

Clarisse, 24, is expected to enter the ITV2 show's secondary villa Casa Amor — where contestants are sent to sway those already coupled up.

The model and blogger — who is part French and part Guyanese — dated Premier League star Alex Iwobi.

She also had a brief romance with rapper Diddy's son Justin Combs, 27.

Jessica Lester

DANNY APOLOGISES AGAIN OVER RACIAL SLUR

DANNY Bibby has apologised AGAIN for his use of the n-word after sparking more than 1,500 complaints to Ofcom.

The 25-year-old plumber was caught up in a race row after eagle-eyed fans spotted him using the slur underneath an Instagram post.

After being dumped from the show earlier this week, Danny took to his social media to explain and apologise about the comment.

He explained that he was "truly sorry" for using the word after seeing the backlash on the post and across social media.

He added that it came from his admiration of rap music and that at the time he was not aware it would cause offence due to the way it was written.
Jessica Lester

FANS BAFFLED AS GEORGIA DUBS HUGO A 'HERO'

FANS were left baffled this evening when dumped bombshell Georgia Townend referred to Hugo Hammond as her "hero".

The bubbly blonde was only in the Majorca villa for two days before she was pied by the PE teacher and left single, sealing her fate.

Hugo shocked viewers when he was quick to reject a romantic relationship with the newcomer, and he later chose to save pal Chloe over Georgia in a re-coupling.

Speaking after she left the villa, the bombshell told the cameras: "I went in with my sights set on Hugo, I wasn't really interested in any of the other boys.

"So lesson to be learned: Never meet your heroes."

Jessica Lester

IS TOBY JUST PLAYING A GAME?

VIEWERS are convinced that Toby is playing a game and he only dumped Chloe for Abigail after they landed at the bottom of a second public vote.

The 22-year-old semi-pro footballer caused shockwaves in the famous villa when his head was turned by stunning tattoo artist Abi.

Fans have taken to Twitter to claim that Toby has only dumped Chloe because he's worried about public opinion.

One wrote: "Soon as Toby realised the public wasn't into him and Chloe , he ditched her ASAP. If that's not someone playing the game then…"

Another added: "Toby is such a game player, he knows that him and Chloe are the public's least favourite couple, so he chose a different girl this time around."

A third said: "Toby the game player. Soon as he got low votes from the public, he started having 2nd thoughts and play a new game and pie off Chloe…"

Jessica Lester

CHLOE GIGGLES AS 'HERO' HUGO BATTLES TOBY

LOVE Island's Toby Aromolaran looked like he was in hell during his showdown with Hugo Hammond tonight.

But viewers didn't miss the sight of his bitter ex Chloe Burrows revelling in his misfortune – giggling over his shoulder and soaking up the drama.

Fans spotted her drinking up the drama, with one tweeting: "Not CHLOE in the background absolutely LOVING IT."

Another wrote: "Chloe in the background giggling is p***ing me off I can't wait to send her home."

Others said she was "spying" with one unimpressed viewer posting: "Chloe in the background enjoying every second… Urghh."

Shan Ally

JIBBERTY ARE OFFICIAL!!!

Jake enlists the Islanders help…

Kaz gets the dress code sorted, meanwhile Hugo and Liam provide the villa entertainment with a rendition of That's Amore.

Jake surprise the beauty with a plate of spaghetti Bolognese as they enjoy a villa date date.

After a mini tour, the Brummie lad expressed his feelings – telling her that she makes him feel so "happy" and he's ready to commit.

The feelings were reciprocated with Liberty saying she couldn't be happier.

Jake pop the question with two magnetic bracelets, saying that he wants to take the next step.

Jake revealed: "I have found the one…will you be my girlfriend."

An overwhelmed Liberty exclaimed: "As if….YES….I LOVE YOU."

Shan Ally

LIAM ADMITS 'THE FEELS'

Upon his return to the villa, the lads grill him about his date with Millie.

The Welsh builder beamed from ear to ear and admitted that he's catching feeling for the stunning Essex lass.

It's safe to say that their first date was a blinding success!

Shan Ally

JAKE'S MASTER PLAN

Brummie Jake reveals to the lads that he wants to make Liberty his official GIRLFRIEND.

The water engineer cooks up a master plan with the lads, as he thinks of the perfect way to pop the question.

Jake suggests a possible bolognese date night….but what has the cheeky chappy got in store?
Shan Ally

FIRST DATE VIBES

Administrator Millie and Welsh builder Liam looked picture perfect on their first date.

Millie said their "connection" is spot on as the pair open a bottle of bubbly.

Shan Ally

TOBY'S SHOCK DECISION

The boys can't see eye to eye on their differences.

Toby makes a shocking admission, saying he'll never speak to the PE teacher after the show.

He said the trust is gone and he'll no longer be able to see Hugo in the same light again.

 

Shan Ally

THE MORNING AFTER

Chloe's understandably still emotional after she came to blows with Toby.

Toby rubbed salt in the wound as he delivered Abigail a morning coffee in front of Chloe's face.

 

Shan Ally

LIBERTY COMES CLEAN

Waitress Liberty opens her heart to water engineer Jake – admitting that "she's falling".

The chuffed Brummie couldn't have been happier to hear those words.

Shan Ally

CARDS ON THE TABLE

Chloe laid into Toby – telling him he was "out of order".

The footballer thanked her for bringing out sides of him that he liked and denied that he had pushed Chloe away.

Chloe raged that he should have been reassuring her, instead of cracking on with Abigail.

She sobbed: "There is no absolutely no respect, it hurts."

Toby admitted that he had feelings for her over the past two weeks – but confirmed that it wasn't going to work long-term.

The blonde babe stormed off!

Shan Ally

KAZ'S DREAM MAN

Kaz shared another steamy kiss with bombshell Tyler.

The cute pair couldn't keep their hand off each other as they got cosy.
Shan Ally

CHLOE'S PAIN

The marketing executive was in floods of tears as she comes to terms with him moving on with new girl Abigail.

Chloe told Hugo that she's so grateful for him backing her all the way!

 

Shan Ally

TEMPER TEMPER

Toby is raging admitting his "blood is boiling" and refused to look at Hugo.

The footballer slammed Hugo, saying he's "not a good mate" and he's been embarrassed.

Hugo made a quick exit as it was clear the situation would not be resolved.

Shan Ally

'THAT IS NOT COOL'

Toby slams Hugo and tells him he's "not angry" at his opinion but is fuming at the way he went about it – saying "it's not cool".

The semi-professional footballer said that he values his opinion but admits that Hugo is just a follower and doesn't care about bro code.

Hugo was having none of it.

He backed himself and told Toby that he didn't plan that and said that he had told him to be honest.

The PE teacher said he felt bad for Chloe and slammed him for repeating the same mistake for a second time.

 

Shan Ally

DRAMA AND TEARS

Chloe Burrows was left in tears as the repercussions of the recoupling dawns on her.

The marketing executive praises Hugo for defending her and calling out Toby on his actions.

Meanwhile, new girl Abigail Rawlings teases Toby as they look forward to their first night in bed together.

Shan Ally

'IT'S SO MUGGY'

Lucinda defends Hugo's comments and slams Toby for calling him a "two-faced mug".

But tensions continue to bubble under the surface, with Aaron slamming Toby for "sacking" Chloe off.

Hugo defends his comments and stands by his remarks after he slagged him off in public.

Shan Ally

KICKING OFF!

Hugo's recoupling speech has ruffled some feathers- with Toby fuming that the PE teacher slammed him for being "disrespectful" to Chloe Burrows.

But Toby was quick to make a sly dig at Hugo calling him "two-faced" for his actions.
Shan Ally

SEE YOU LATER GEORGIA!

Georgia Townsend has become the latest dumping – but tensions are running high after Hugo's dramatic recoupling speech.

Unfortunately the blonde babe didn't find love – but she admitted she wouldn't have changed a thing.

See you later Georgia!

 

Jessica Lester

GET READY FOR TONIGHT'S EXTENDED SHOW

LOVE Island has been extended tonight as Hugo, Chloe and Toby's secret fallout erupts after the shock recoupling.

ITV2 has added an extra five minutes to tonight's show after teasing a big row between the trio will hit screens in Friday's episode.

Last night Hugo took a savage swipe at Toby as he saved Chloe from being dumped in a shock recoupling.

The PE Teacher blasted Toby in his recoupling speech after the semi-pro footballer stunned viewers by choosing to couple up with new girl Abi instead.

Following his speech, the Islanders went to hug Georgia who was sent packing, but Toby could be heard seething "what the f**k was that".

There's sure to be more drama unfolding tonight…

Jessica Lester

KAZ AND FAYE LEFT 'FUMING' AS CHLOE CELEBRATED BEING SAVED

LOVE Island's Kaz Kamwi and Faye Winter were "fuming" as Chloe Burrows celebrated being saved in the shock recoupling, fans claim.

Last night Hugo Hammond, 24, decided to save the marketing executive, 25, from going home, meaning Georgia Townsend, 28, was given the boot.

But as she sat down with a huge smile on her face, Faye and Kaz weren't impressed – and many viewers of the ITV2 show took to Twitter to point it out.

One wrote: "Tell you what though a lot of people are gonna be against Hugo now 100%. You could tell the lads was kinda pissed sad Faye & Kaz was fuming."

Another said: "Why is Kaz and Faye fuming with Hugo that was brilliant, well done lad."

A third chimed in: "I think Faye and Kaz secretly wanted Chloe out because of her getting with Toby which is why they're so pissed can't see why they would be on Toby's side, it literally shows why he has never been in a relationship before."

Jessica Lester

BOMBSHELL TYLER SENDS FANS WILD WITH HIS BULGE

LOVE Island's Tyler sent fans wild with when he stripped down to his pants for a sexy Instagram pic.

The 26-year-old – who coupled up with Kaz Kamwi on the ITV2 last night – showed off his incredible body in a mirror selfie on Instagram.

One fan replied back: "So glad my girl don't follow you," while another added: "Bro u defo need to model for CK."
Source: Read Full Article