Love Island finale date is confirmed by Maya Jama – and it's soon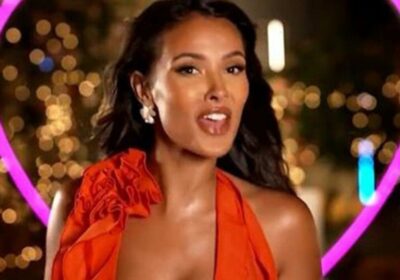 Love Island: Claudia storms out of bedroom and sleeps outside
We use your sign-up to provide content in ways you've consented to and to improve our understanding of you. This may include adverts from us and 3rd parties based on our understanding. You can unsubscribe at any time. More info
Love Island fans have been watching the drama unfold with a number of fiery exchanges sparking backlash. Maya Jama has just announced when the series will come to an end.
The finale for the winter edition of the ITV2 dating competition is coming up fast, host Maya has confirmed.
The presenter and radio DJ took to social media to reveal the update to her followers.
She announced the news while wearing a blood-orange dress that sent fans into a frenzy.
She said: "Guys, I have some very, very exciting news.
"The Love Island final is going to be on… drumroll please… Monday 13th March on ITV2 and ITVX."
She continued: "It is going to be major, you don't want to miss it.
"I will see you then," while blowing a kiss to the camera.
This means viewers have just a couple of weeks left before the series wraps up.
The update comes after the network was hit with Ofcom complaints relating to the behaviour of some of the girls.
During the Movie Night special, the islanders watched private conversations on-screen.
They also found out what really happened when they were separated in Casa Amor.
Tanya Manhenga and Olivia Hawkins' behaviour caused outrage over how they treated partners Kai Fagan and Shaq Muhammad.
DON'T MISS…
Love Island star unveils hair loss in 'brave' post about her alopecia
Love Island feud ignites as Jessie Wynter and Casey O'Gorman clash
Love Island viewers rush to defend Casey over love triangle chaos
Olivia demanded her partner apologise after claiming he had called her fake.
Tanya and Shaq also had an argument after she was seen passionately kissing Martin.
Following the Movie Night special, Ofcom received 266 complaints on February 23.
As for what has happened recently, Maxwell's conversation with Casey came to light alongside an admission from Olivia about doubting how genuine Jessie was.
Will was keen to get to the bottom of the story as he probed: "Max, can we have a chat mate?
"I'm livid, I'm not going to lie. I've just been pulled and told that you said Jessie was fake.
"Where is this all coming from? What's everyone saying because I'm completely confused why this word fake is going around."
Claudia explained to Jessie: "Maxwell has pulled Casey for a chat and said 'I think she's fake', then Liv comes over and has apparently been talking to Lana and everyone about how they think the same thing about you and that some of your intentions aren't genuine."
Jessie asked: "So who has it come from, Liv do you reckon? Are the other girls buying into it or not saying anything?"
The Love Island finale will air on ITV2 on March 13
Source: Read Full Article