Love Island fans gobsmacked by Mitch's 'delusional performance' in heated row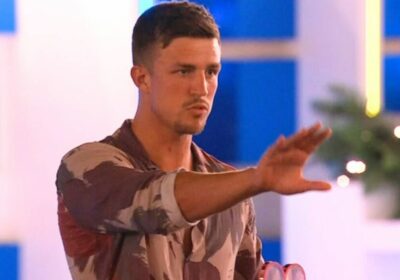 Mitch gets into row before branding himself 'king'
Fans of the ITV reality show cringed as they watched the awkward Grafter Awards being handed out and Mitchel Taylor unfortunately collected a couple of them.
Mitch lost his cool with his fellow Love Island stars after footage exposed some of the statements he'd made throughout his time at the villa.
While viewers were left divided about the 26-year-old, many believe it's time for him to go.
Twitter user @asvpayo penned: "Mitch is in a constant state of delusional, not even Scott's sharp mouth can get to him #LoveIsland."
@CrumbsTwic27199 added: "Mitch needs to go #LoveIsland."
Don't miss… Love Island fans plead 'someone explain' as new feature baffles viewers[LATEST]
@Maddie27621122 wrote: "#LoveIsland Mitch is so childish and annoying I can't cope how Ella B hasn't got the ick is beyond me he's doing too much."
"Imagine pulling out THAT episode in the final week, which is usually relatively drama free? It's been at the detriment of having solid couples, but this series has truly been like no other. And yeah Mitch is absolutely insane, but he's made this series SO good. #LoveIsland," @_erinz_ shared.
@mccxnnsrauhl posted: "No f***ing way Mitch just said "messing with the king" THAT IS SO EMBARRASSING #LoveIsland." (sic)
However, some fans instantly voted for Mitch as they applauded his "performance". @_elisecs admitted: "I'm voting for Mitch idgaf that was a stunning performance #loveisland." (sic)
Don't miss…
Love Island's Lochan branded 'snakey' as private conversation exposed[VIDEO]
Love Island stars to set pulses racing during talent show[LATEST]
Love Island fans spot clue Scott will quit ahead of final following confession[THEORY]
We use your sign-up to provide content in ways you've consented to and to improve our understanding of you. This may include adverts from us and 3rd parties based on our understanding. You can unsubscribe at any time. More info
After already achieving one of the awkward awards, Mitch was nominated for the final category, Mad Moves.
As his name was called out, he fumed: "F***ing hell," before a clip of him admitting he'd been "forcing" romance with Ella Barnes over Abi Moores.
He stated in the clip he hadn't wanted to kiss Ella, who he is now coupled up with and a smug Abi remarked: "Now everyone can see what was actually said…"
When he was announced as the winner, Mitchel stated: "Mad moves… we've all had them, mainly me in this villa.
"But I'm proud to get my second award, tonight guys, it means a lot. Not the best award to have had, I'd like to apologise to Abi and Ella, it's not the man I am."
He later added: "Anyone else want to add anything to the mad moves or forever hold your peace?
"No? Yeah, that's what I thought," before placing a finger to his lips.
"Sit down," Scott fumed as Ella echoed: "Yeah please, sit down."
"Bro, shut up," Mitch fumed before Scott hit back: "Has anyone ever told you you sound like a f***ing k***head?"
"I'm just chilling here being honest, this boy isn't. Let's all – one, two, three, four, five get back to our real relationships, yeah? Am I wrong?"
"Why are you saying that?" Abi asked, adding: "Why are you trying to start something, Mitch? You don't need to."
"You called me a k***head, I'll retaliate," Mitch replied.
Another awkward moment came as Scott asked: "Well does anyone disagree?" and was met with silence.
When he finally sat back down, Mitch remarked: "Messing with the king, idiot!"
Love Island airs weekdays from 9pm on ITV.
Source: Read Full Article