Love Island couple on verge of split as pair face dumping from villa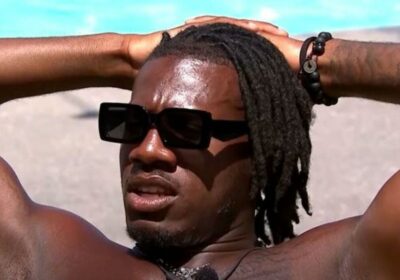 Love Island: Tanyel is dumped from show ahead of Casa Amor
We use your sign-up to provide content in ways you've consented to and to improve our understanding of you. This may include adverts from us and 3rd parties based on our understanding. You can unsubscribe at any time. More info
Friday's Love Island could see Tanya Manhenga and Shaq Muhammad calling it quits after an awkward exchange on Thursday's episode. The couple may stun fans of the ITV reality show if they split because they once seemed like the strong couple of this year's contestants – will they put the row behind them?
It came as Shaq gave Ron Hall a telling-off over not helping out with the washing up.
As an argument broke out, Tanya wasn't pleased with her partner's behaviour.
It seems tensions were still rising the following day, and Friday's instalment will see the couple confronting each other.
In tonight's episode, Shaq will approach Tanya, who's in the middle of a chat with Lana Jenkins about the rift from the previous night.
Tanyla labelled Shaq "rude" for his actions, stating: "It was rude, he's a grown man, he heard you the first time."
"It didn't sit right and I felt like it wasn't about the kitchen," Lana added.
As the trio have a conversation, Shaq later asked for a private word with Tanya.
"I wanted to speak to you about when you and Lana spoke to me," he stated.
He continued: "With that situation, I'll be honest, I really didn't like it. It felt like I was being told off."
"Babe, no one is coming to you like a child, I don't know why you're taking it like that," Tanya responded.
Shaq argued: "The way it was handled, I don't like it and I don't expect you of all people to put me in that situation."
"I understand," Tanya replied, adding: "But for that specific situation that's how I would have handled it and if I had to go back I would do it the same."
Will the two be able to reach an understanding, or are they over for good?
Elsewhere, Shaq also has an awkward chat with Ron about the previous evening.
"I just wanted to speak to you on a one-to-one basis, at the start me and you were very close and very tight and as time has gone on we've grown further apart," Shaq explained to Ron.
He continued: "It stems from how much I care about Lana, I do care about you as well and I don't want there to be any friction between me and you."
"Aside from the Lana situation, I feel like the reason we've drifted apart was the Casey [O'Gorman] situation," Ron admitted.
"I felt like you thought he was more important and you'd only known him for a couple of days."
Will the two be able to rekindle their bromance now that they're shared their concerns?
Tonight's episode will end with a shock text for all islanders to gather around the fire pit, undoubtedly because another dumping is on its way.
But will Shaq and Tanya survive the recoupling, or could one – or both of them – find their time cut short if they fail to recouple?
Love Island continues on Friday at 9pm on ITV2.
Source: Read Full Article