Love Island 2021 LIVE – Faye 'in tears' as Sharon is DUMPED in shock recoupling tonight – latest news and updates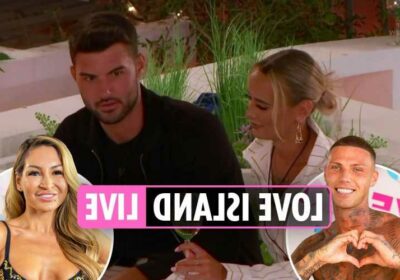 LOVE ISLAND'S Faye was left in tears tonight as Sharon was dumped from the villa.
The latest bombshells AJ Bunker and Danny Bibby got the first pick in the ITV2 dating show.
New girl AJ has been grafting hard and made it clear she likes both Hugo and Liam, but ended up choosing Hugo.
Meanwhile, tattooed hunk Danny dated both Sharon and Kaz and seemed to impress every girl in the villa.
But, he also had eyes on Lucinda as he admitted to Jake there was a "different vibe" when talking to her.
In the end, he decided to choose Lucinda, meaning poor Sharon was left standing alone and had to pack her bags.
Read our Love Island live blog for the very latest updates on the show…
Sarah Tetteh

WHIPLASH

Faye is hilarious! Did you see her pony-tail go when she found out how Lucinda swerved Aaron's kiss?

Sarah Tetteh

MUPPET SHOW

It's going to go off tonight.

Do you see Danny getting all riled up as he approaches Aaron over Lucinda?

Sarah Tetteh

SNAKE

Did Danny just call Aaron a snake?

'Don't take me for a 'f***ing ' mug, he said to Jake about Aaron
Sarah Tetteh

SWERVE

Aaron is pulling all the punches to get Lucinda back.

LOVE how the lads are laughing about him getting swerved when he went for a kiss with lucinda.

Sarah Tetteh

ALL EYES ON THEM

Did you see Danny eyeball Aaron and Lucinda when they went off for a chat?

And now she has pied him when he went in for the kiss!

Oh my….

Sarah Tetteh

BLESS HUGO

'Why me?' he said when AJ picked him.

He needs to rate himself, no?

Did you see Hugo blushing when AJ was telling him how much she fancied him?

Still, didn't she say the same thing to Liam before?

Sarah Tetteh

TEDDY'S SMITTEN

Did you see him kissing Faye with all the snot going on while she was mourning the departure of her bestie Sharon.

He must be in it for the long haul.

Go Teddy!

Sarah Tetteh

QUEEN

Love how Shaz pulled herself together to strut out of the villa.

Suitcase in tow.

She'll be ready to get back to her beauty pageants in no time!

Sarah Tetteh

KAZ AND SHAZ

Fans are gutted it's the end of an era on 'friendship island'.

Did you see the iron lady Shaz actually break down in tears saying goodbye to her besties Kaz and Faye?

 

 
Sarah Tetteh

SHARON NOOOO

Sharon is going home.

They are going to be in floods of tears… for days!

Sarah Tetteh

CHLOE'S GRIN THOUGH

Honestly, make it stop.

Did you see how much she was lapping up Toby's speech?

 

Sarah Tetteh

MY LIB

Did you check out Jake getting all emosh when choosing Liberty?

He loves everything about her, even her snotty nose.

Well, he said it!

Sarah Tetteh

STEAL

Aaron's face when Danny chose Lucinda.

Eeek! Thank God he's got his 'sis' Kaz on standby.

Sarah Tetteh

PHEW-GO

Lucky escape Millie!

Did you see Hugo look so angry when he got picked by AJ though?

Shock

Sarah Tetteh

NEW COUPLE ALERT

Fans have predicted how it will go down tonight in the recoupling.

They could be on the money…
Sarah Tetteh

RACE ROW

Some fans called for Danny to be kicked off the show before it started.
This comes as eagle-eyed fans combed through his Instagram and found the comment.

In a photo of Danny posing in a bold leaf-patterned shirt while on holiday, a friend commented: "Champ" and a fist-bump emoji.

Danny replied: "My n****".

Danny's dad has apologised and said: "He hasn't a racist bone is his body."

Sarah Tetteh

DANNY DRAMA

The dad of Love Island new boy Danny has apologised for his son's n-word post and insisted "he's not racist but this was a mistake".

The 25-year-old plumber was already embroiled in a race row after using the n-word in a social media post.

Sarah Tetteh

MESSAGE!

Just 30 minutes until Love Island.

Go fill up your water bottles or something stronger. Ha!

Sarah Tetteh

WHAT TIME IS LOVE ISLAND?

Love Island is back on our screens tonight at 9pm on ITV2.

Ooh, and expect fireworks. It's going to be a big one.

Sarah Tetteh

CHLOE ROMANCE

She promised him 'limitless foreplay' and now fans are wondering if Chloe will deliver.

They reckon she'll be the first to have sex in the hideaway after her loud 'slurpy' kisses with Toby.

Sarah Tetteh

BRAD MOVE

Fans were concerned for dumped islander Rachel, and asked her why she cried so much over Brad on the show.

The stunner soon flew to her own defence and said it was all to do with the editing of the show.

Rachel replied: "I feel like I'm saying the obvious here but you know this is a show that is filmed 24 hours a day and only certain parts are only put in.

"I did more than just cry on that show and when I cried, believe me, it wasn't just over Brad.

"I think I only cried over Brad once, it's very intense in there."

She later joked: "Watch Unseen Bits to see a bit more of me not crying 'so much'."
Sarah Tetteh

NO MORE TEARS

LOVE Island's Rachel Finni has insisted that she only cried over hunky Brad McClelland ONCE – and has teased a Casa Amor return.

The luxury travel expert, 29, was booted off the ITV2 show earlier this week after failing to couple up with anyone.

Sarah Tetteh

DRAMA

Fans are preparing for the most dramatic episode of the series so far.

Will Liam walk if his beloved Millie goes?

Find out in a couple of hours.

Sarah Tetteh

NERVOUS

Who will new girl AJ decide to couple up with? The boys then make their decision starting with new boy Danny.

Which girl will be left single and be leaving Love Island tonight? 

Sarah Tetteh

MESSAGE!

AJ got a text. It was time to gather around the firepit to make her mind up.

Making her decision, AJ says: "I would like to couple up with this boy because first of all he is gorgeous. Since coming into the Villa, he has made me feel so comfortable. "

There's more… but we won't spoil it for you.

 
Source: Read Full Article