Louise Minchin quits BBC Breakfast after 20 years with tearful announcement 'Time to stop'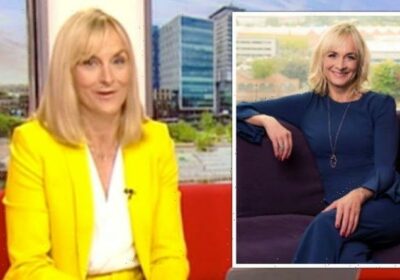 Breakfast: Louise Minchin's suffers technical blunder
When you subscribe we will use the information you provide to send you these newsletters. Sometimes they'll include recommendations for other related newsletters or services we offer. Our Privacy Notice explains more about how we use your data, and your rights. You can unsubscribe at any time.
Louise Minchin announced she had decided it was time to leave BBC Breakfast and stop setting her alarm so early in the morning. The presenter shared the news on Tuesday's programme as Dan Walker admitted it had been had keeping it a secret.
Dan began: "We have some rather significant breakfast news coming your way. I say we but Louise…"
"Just going to take a little bit of a deep breath," Louise replied. "So, everybody, it's something I just wanted to tell you about.
"It will be this year 20 years since I first presented this programme and since then I have felt part of a huge, enormous BBC Breakfast family who includes everyone who works here everyone on the team, and every one of you who watches the programme.
"I have loved being part of it but there is a but. You know about the but. I have decided it is time that I stop setting my alarm for 3.40am, sometimes when I'm feeling really rebellious, 3.46am in the morning, and I am going to be leaving programme.
"It's not going to be for a while but just before anything else I just wanted to thank everybody who is watching for your loyalty, your support over all those years, I have loved being par of it, I really will miss it but it is time now to stop that alarm in the morning.
"Thank you for watching all of those years as well."
Dan responded: "You can probably appreciate it's a bit of a relief to say that isn't it?
"It's big news for Louise and I'm sure that's probably big news for a lot of you watching as well.
"Certainly for everyone who works and loves working with Louise. Obviously you need to give us some time to give you the proper big send off so when?"
"That's a very good question," Louise answered. "It's not today, it will be sometime after the Summer.
"The date is not set in stone but it will be sometime after the summer."
Dan continued: "You know, we've worked together on this sofa for five years. You say you've been on for 20 years."
"It's been 20 years my children can't remember a time when Iw isn't at some point working on the programme," Louise said.
More to follow…
Source: Read Full Article