Lorraine Kelly 'replaced' as Louise Minchin steps in during presenter shake-up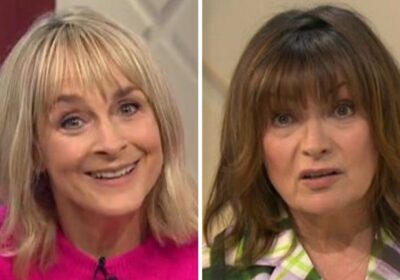 Louise Minchin returns to BBC Breakfast
Lorraine Kelly was missing from her ITV show this morning as former BBC Breakfast presenter Louise Minchin stepped in to hold the fort.
Introducing the show, Louise said: "I am Louise Minchin standing for Lorraine today," but did not give a reason as to why she was presenting.
Lorraine is more than likely taking her holiday for half-term, which most of the long-term ITV presenters do.
Kicking off the show, Louise was joined by Dr Amir, who asked her to try a TikTok trend that made her cautious at first – although she went on to smash it later on.
Viewers of the show were left confused with the presenter shake-up and took to their X (Twitter) accounts to complain.
READ MORE Win a pair of tickets to The Coronation Street Experience
@danielgilbert fumed: "Omg not even Ranvir and Christine??? Louise Minchin?!? WHERE IS THE WOMAN HERSELF?!? #Lorraine."- (sic)
@gffcontwitch asked: "What's #Lorraine excuse today?" to which @DarioCJK2 replied: "Half term #Lorraine." (sic)
@ScullyScully73 noted: "It's Louise didn't recognise her #Lorraine." (sic)
@cookiejoe9 quipped: "#Lorraine Still having half term off work, how old is her adult daughter?? Louise Minchin is loyal as ever to #BBCBreakfast" (sic)
@DollyMartin commented: "Lousie Minchin is still such a queen! Lorraine just took off at the end of the week and didn't even say bye!" (sic)
Don't miss…
Louise Minchin issues apology over unusual new role after BBC Breakfast exit[WATCH]
Sally Nugent on 'mini break' with Carol Kirkwood after 'marriage split'[INSIGHT]
Louise Minchin admits she 'never watches' BBC Breakfast after exit[LATEST]
Advert-free experience without interruptions.
Rocket-fast speedy loading pages.
Exclusive & Unlimited access to all our content.
Lorraine isn't the only presenter who is taking time off for half-term, as earlier this week Good Morning Britain presenter Susanna Reid also announced her break.
During a link with Lorraine, she explained: "I am back in two weeks' time," to which Lorraine replied: "We will miss you! Have a great time Susanna."
Louise was a presenter on BBC Breakfast for 20 years and announced her departure back in June 2021, before doing her last episode on September 15 this same year.
Sharing why she was stepping down from her role, she explained: "In December I'd taken three, four weeks off work because of an ankle operation and I had that period to realise that when I'm not getting up at 3:40am in the morning, I'm doing all sorts of things in the evening that I want to be doing – like just watching telly with my family, doing that kind of family stuff.
"I think it was coming out of winter into this period that the decision was made."
Lorraine airs weekdays from 9am on ITV1 and ITVX.
Source: Read Full Article