Loose Women viewers outraged as panellists appear to criticise Coronation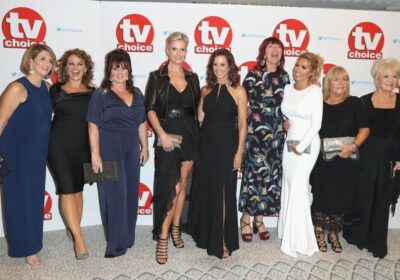 Coleen slams the Coronation on Loose Women
Members of the Loose Women panel caused a stir on Tuesday's (May 9) edition of the long-running ITV discussion show by criticising several aspects related to the Coronation of King Charles III on Saturday.
Ruth Langsford was joined by Kelle Bryan, Coleen Nolan and Janet Street-Porter and it didnt take long for the latter two to get hot under the collar about the historic Westminster Abbey occasion.
The quartet went straight to a discussion surrounding the newly-released Coronation portrait of the Royals, prompting Janet, 76, to dive straight in and slam the picture.
"It's formal. It's a little bit desiccated, a little bit stodgy," she explained in front of a shocked studio audience.
"I know they always are, I know that William wants to move the monarchy in to the 21st century and to slim it down. I would have thought they could have brought the kids in, that would have perked it up for a start."
She continued: "I just think it looks like nothing much is changing. I mean, maybe that's the point of a formal photo. But I just think it just needed someone to produce it to make it look a little bit more of the 21st century. It's a bit stiff."
Later in the segment, meanwhile, chat moved on to the Royals' appearance on the Buckingham Palace balcony – and again it was Janet who seemed less than impressed.
"What I also found is when they all got back on the balcony, and we've got the fact that the shot we'd been waiting hours and hours for, it was so underpowered," she bemoaned.
"It's almost like they were exhausted by what had gone on before. And I felt like saying get the kids, let them do more."
Don't miss…
Coleen Nolan slams Coronation as sister lay in hospital for 20 hours[LATEST]
Nadia Sawalha shows off curves in blue bikini as she takes dip in sea[LATEST]
Denise Welch shares 'relief' as son Matty Healy comes off social media[LATEST]
Coleen, 58, soon got in on the act too, calling out the King and Queen over their apparent lack of smiling on the day.
She said: "On the day I thought, just smile a bit."
The comment led to Ruth quickly interjecting: "Do you not think that's the responsibility of the day? No, just everything we've practised, or having to do everything properly. Like say she just smiled in the wrong place?"
Mother-of-three Coleen subsequently hit back: "How can you smile in the wrong place? You've just been made King and Queen!"
The chat clearly hit a nerve with scores of the programme's loyal viewers, with many taking to social media afterwards to criticise the ladies.
One Twitter user commented: "Make your minds up fish wives. Yesterday they were pro royals and today knifes are out."
Another declared: "Why cant loose women say something nice for once and focus on the actual day and how well we did as a country."
A third added: "Oh Coleen you just can't help yourself #antiroyalist."
And a fourth wrote: "janet street porter dont ever bloody come back to loose women and l mean it."
Source: Read Full Article