Line of Duty fans think Philip Osborne is most likely H – is Ted Hastings innocent?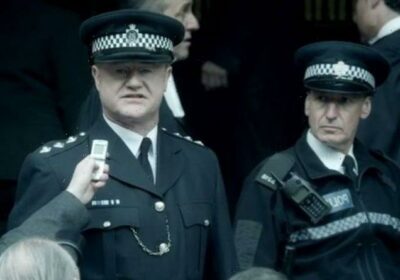 Line of Duty: Craig Parkinson tells fans to 'be prepared'
When you subscribe we will use the information you provide to send you these newsletters. Sometimes they'll include recommendations for other related newsletters or services we offer. Our Privacy Notice explains more about how we use your data, and your rights. You can unsubscribe at any time.
Sunday's final episode of the BBC hit crime drama is set to see the search for corrupt police officer 'H' come to an end. Ahead of the hotly anticipated finale, a YouGov poll found 22 percent of Line of Duty fans believe Chief Constable Philip Osborne, played by Owen Teale, is the bent copper AC-12 are hunting for.
The chief constable fits the 'high ranking officer' description and in the last episode, Superintendent Ted Hastings had his own suspicions and asked Jo Davidson if Osborne was the 'fourth man'.
Fans also suspect that Osborne's 'enemies within' speech during the closing montage may prove significant.
Detective Chief Superintendent Patricia Carmichael was voted second most likely to be the villain with 19 percent of votes.
AC-12's own Superintendent Ted Hastings and Deputy Chief Constable Andrea Wise came next, both with six percent of votes.
Four percent of viewers think Marcus Thurwell is the main antagonist, and the same amount voted for the show's former Police and Crime Commissioner Rohan Sindwhani.
Fans are less convinced that lead characters, Detective Inspectors Kate Fleming and Steve Arnott are suspects as they received three percent and two percent of votes respectively.
Eight percent have absolutely no idea who the mysterious H could be.
Speaking today on BBC Breakfast, Craig Parkinson, who played Matthew 'Dot' Cottan in the first three series, issued a warning for loyal viewers ahead of this weekend's big reveal.
DON'T MISS
Nightmare for Starmer as working class turn against Labour[POLITICS]
Vine caller erupts in furious outburst at Dr Sarah Jarvis[TV]
Covid vaccine: More people suffer side effects after second Pfizer jab[COVID]
He said: "If you've been invested since season one and emotionally invested in our main trio of Kate, Steve and Ted then… yeah be prepared on Sunday. I would say be prepared."
Martin Compston, who plays DI Steve Arnott, teased that there will be 'big answers' in the upcoming episode and he believes it could be the 'perfect ending' to the police drama.
Appearing on the Jonathan Ross Show, he also revealed that this could be the last ever series. He said: "We won't come back just for the sake of it. That's for sure. We'll come back if there's a story to tell.
"If it ends well maybe sometimes it is best to leave it. But genuinely we don't know."
You can watch Line of Duty on Sunday night at 9pm on BBC One or afterwards on BBC iPlayer.
Source: Read Full Article