Liam Neeson Convinced by Jordan Peele to Revisit His Racism Scandal in Donald Glover's 'Atlanta'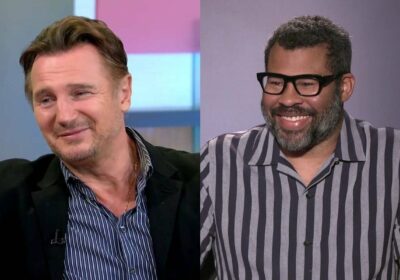 The 'Taken' actor initially refused to poke fun at his racism scandal in a cameo for Childish Gambino's show but the 'Get Out' director persuaded him to say yes to the gig.
AceShowbiz –Donald Glover reveals Liam Neeson "poured his heart out" to him about his racism scandal. The 39-year-old actor said the Oscar-nominee became emotional when he asked him to do a cameo on his music industry comedy-drama show "Atlanta" in a segment that would poke fun at the fallout over Liam, 70, infamously saying he once waked the streets looking to kill a "black b*****d" after a close friend was raped.
"When I got in touch with him, Liam poured his heart out. He was like, 'I am embarrassed. I don't know about this. I'm trying to get away from that.' I was like, 'Man, I'm telling you, this will be funny! And you'll actually get a lot of cream from it because it'll show you're sorry,' " Donald told the new issue of GQ magazine about Liam's initial reluctance to take the part as he was "trying to get away" from the race row.
Donald added Liam asked for time to "think about it" before he sent him an email saying, "I don't think I can do it and best of luck with Atlanta, blah-blah-blah."
Liam was eventually persuaded to do the cameo after Donald got in touch with comic Jordan Peele, 44, and asked him to reach out to the "Schindler's List" star. Donald added, "Liam said (after the racism scandal) he talked to Morgan Freeman, Jordan Peele, and Spike Lee."
"So I was like… Jordan Peele! I hit Jordan Peele up and I was like, 'Look, man, I got this idea. He said that he trusted you. Tell him it's a good idea!' Jordan thought it was hilarious! So Jordan talked to him. Liam hit me back and said he talked to Jordan and his son and thought it'd actually be a good thing."
"But what was so funny is, like, I forgot to hit Jordan back. I was so excited about Liam doing it. So Jordan hit a friend of mine, and was like, 'Am I on a prank show where Donald got me to forgive Liam Neeson? Was this a joke…on me?' "
Liam caused huge backlash while promoting the revenge movie "Cold Pursuit" in 2019, and told The Independent newspaper he once stalked the streets for days, looking to kill any "black b*****d" after someone close to him was raped many years ago. Liam stressed he felt "ashamed" of his past "awful" behaviour but his comments were slammed so widely the premiere of "Cold Pursuit" was cancelled.
The actor's cameo in "Atlanta" last year sees Alfred "Paper Boi" Miles (played by Brian Tyree Henry) meeting Neeson at a bar called Cancel Club, where they discuss the actor's "transgression." Liam tells Paper Boi, "You may have heard about my transgression," before emphasising his remarks addressed his feeling of shame.
Paper Boi responds, "It's good to know that you don't hate black people now," with Liam responding, "No, no, no, I can't stand the lot of ya… I feel that way because you tried to ruin my career. Didn't succeed, mind you. However, I'm sure one day I will get over it, but until then, we are mortal enemies."
Paper Boi then suggests the actor hasn't learned his lesson, if he's still saying things like that, prompting Liam to reply, "Aye. I also learned the best and worst part about being white is you don't have to learn anything if you don't want to."
Read the full interview, "Inside Donald Glover's New Creative Playground", by Mark Anthony Green in GQ's April issue and on GQ.com.
You can share this post!
Source: Read Full Article