Laurence Fox sparks uproar as GB News struck with Ofcom complaints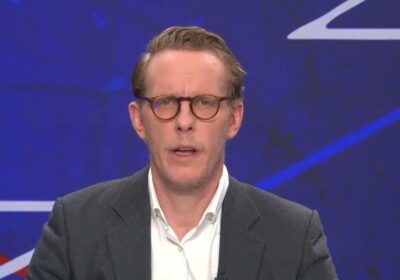 Laurence Fox discusses MHRA report on coronavirus vaccines
We use your sign-up to provide content in ways you've consented to and to improve our understanding of you. This may include adverts from us and 3rd parties based on our understanding. You can unsubscribe at any time. More info
GB News viewers who tuned into Laurence Fox's programme have lodged complaints to Ofcom after a doctor made claims about the effect of the coronavirus vaccine on pregnant women. A clip from the interview went viral and viewers flocked to Twitter to condemn her allegationsw which she later apologised for.
Doctor Tina alleged 58 percent of women had a miscarriage during the Pfizer vaccine trial, suggesting no research had been done on fertility studies.
She said while discussing the results of the MHRA public assessment: "Out of the 25 pregnancies, there were 15 miscarriages."
After the episode aired on February 24, more than 100 people complained to the regulator Ofcom.
Within the clip, Doctor Tina claimed: "If you look at that report for the MHRA you will see they didn't do any fertility studies.
"Pages 16 to 21 are of particular interest for people to look at who are interested.
"They did no fertility studies and they didn't even do fertility studies in animals.
"They were exempt, the studies and trials were exempt which is most peculiar.
"They didn't do any studies on pregnant women and yet it was pushed on pregnant women."
The interview was shared on Twitter, with many condemning it and dozens complaining to television watchdog Ofcom.
Doctor Tina apologised for her claims days after the interview aired, telling her followers: "I want to correct this.
"It was my mistake- taken from a paper that has just been revised. The rate is double what we would expect- still a tragedy in anyone's book @LozzaFox." (sic)
However, her apology was not accepted by everyone on the social media platform.
Gary Connolly penned: "She ought to go back on GB News and apologise if she was a decent person."
John Bye added: "Laurence Fox had Tina Peers on his show last night, making a number of false statements about covid vaccines, including a ridiculous claim that 58 percent of women who got pregnant during the Pfizer trial had a miscarriage. This seems to be a variation of a long debunked story." (sic)
D said: "The damage is done… You have fed the anti-vax with sensationalism that they won't see or believe any correction. @LozzaFox." (sic)
However, Sophie claimed: "Regardless of the miscarriage rate, it's still wrong to vaccinate pregnant women.
"It's taken 50 years to discover that paracetamol can cause ADHD and autism.
"Doctors and scientists have no business telling pregnant women these new MRNA vaccines are safe. There is no long-term data." (sic)
Victoria replied directly to Doctor Tina's apology and simply wrote: "Thank you."
Express.co.uk has contacted Pfizer for comment.
Laurence Fox's GB News show airs on Virgin 604, Freesat 216, Sky 512, Freeview 236 andYouView 236.
Source: Read Full Article