Khloé Kardashian and Tristan Thompson's Cutest Pictures Together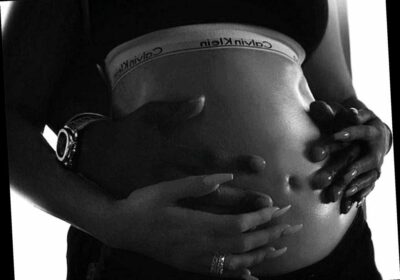 THE ANNOUNCEMENT
At last! Khloé Kardashian confirmed the news that she's expecting her first child, a baby boy, with Tristan Thompson.
"I know we've been keeping this quiet but we wanted to enjoy this between our family and close friends as long as we could privately," wrote Kardashian. "To enjoy our first precious moments just us. Thank you all for understanding. I am so thankful, excited, nervous, eager, overjoyed and scared all in one! But it's the best bundle of feelings I've ever felt in my life!"
1

of

20
THIS IS 'US'
Since their relationship began, Kardashian hasn't shied away from expressing her love on social media. In April, Kardashian shared a snuggle-filled throwback from Thompson's 26th birthday bash with the caption, "💕 US 💕."
2

of

20
TOGETHER IN PARADISE 
The pair posed in the water during a romantic February getaway to the beach. 
3

of

20
GOOD LOOKING OUT 
"To the happiest of birthdays my love! To the first of many more together! May God continue to bless you in all of your days! And may we forever look at one another like this," the reality star captioned a photo from Thompson's March birthday celebration.  
4

of

20
ANYTHING FUR YOU 
"Merry Christmas & Happy Holidays from me and mines, to you and yours," the NBA star wrote to his Instagram followers alongside a photo of the couple sporting matching fur coats. 
5

of

20
NEW YEAR'S EVE KISS
Kardashian rang in the New Year with Thompson in Miami, documenting their PDA-filled night out with photos on Instagram.
6

of

20
ONE DANCE
Further proof that Kardashian and Thompson are in sync — they wear matching jackets. In December, the 32-year-old reality star simply captioned the cute snap, "Him," with a red heart emoji.
8

of

20
BLING RING
Kardashian regularly flies out to Cleveland to support Thompson during home games with the Cavaliers, even flaunting his NBA championship ring (and a killer manicure) on Instagram.
9

of

20
HALLOWEEN ROYALTY
The pair, who started dating in September, took a massive step in their relationship when they coordinated on a couple's costume for Halloween; they dressed as Marvel Comics characters Storm and Black Panther. In one video posted to Snapchat, Kardashian grinds on Thompson, and in the next, she has a friend film the two as they kiss.
10

of

20
BEST OF THE BEST
The couple prepped for Taco Tuesday in July with a morning couple's workout. 
12

of

20
MATCH MADE IN HEAVEN
Thompson also shared a slew of photos from the June bash. "Happy bday my love, this picture right here sums up how wild, crazy and how much we love each other. Let's continue to build more memories and cherish them with each other. God bless you, I love you," he wrote.
15

of

20
YOU ARE MY SUNSHINE
"All my love," Kardashian captioned an August photo of the couple getting goofy by the pool. 
16

of

20
THE BEST MEDICINE 
"My Love," Kardashian captioned a kiss pic in October. That same day, she shared relationship advice on her website. "I think with any relationship the key is to always have respect for one another," she wrote. "No matter how old or new a relationship is, I believe in always praising your partner for the good that they bring and add to your life. It's so easy to focus on the negative, but once you start criticizing one another, it's really hard to get out of that rut."
18

of

20
MY SUN & STARS 
The pair continued the tradition of wearing couple's Halloween costumes, dressing as Khal Drogo and Daenerys Targaryen from Game of Thrones in 2017.
19

of

20
Family
For Kardashian's birthday in 2020, Thompson shared a loving message, writing, "I'm wise enough now to know, you came into my life to show me just what it means to be an incredible person. I appreciate how I am able to learn from and grow because of you. I thank God for the beautiful and loving woman you are to everyone, especially our daughter True. You deserve the world Koko! True and I love you mama."
20

of

20

Source: Read Full Article