Kathryn Edwards Weighs In On The Cast Of RHOBH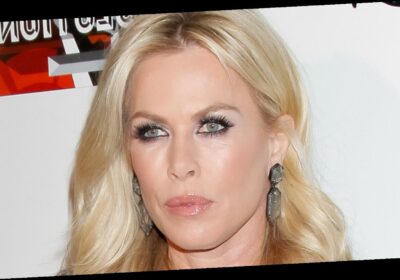 The devil works hard but the Bravo TV big wigs work harder. Model and actress Kathryn Edwards was a one-and-done Housewife on the Real Housewives of Beverly Hills, and though her time on the reality show was short and sweet, she still managed to bring loads of drama — especially regarding her ties to the cast's designated "friend of" Faye Resnick.
As you may recall, Faye is famous for writing a controversial book about her friend and the late ex-wife of O.J. Simpson, Nicole Brown Simpson. In the book, Faye spilled loads of tea and also implied that her friend carried on an affair with Kathryn's fiance at the time, Marcus Allen, and in turn painted Kathryn as the woman willing to sit back and turn a blind eye to her significant other's transgressions. Ruh-roh. Let the drama ensue!
During an appearance on the podcast Behind the Velvet Rope with David Yontef,  Kathryn revealed that meeting Faye for the first time on-camera proved to be difficult, but she ultimately chose to go easy on her. "I had every intention of saying a lot of points that would have been super, super hurtful and it probably would have been things that I, in hindsight maybe would have wished I didn't say, and I couldn't take back," Kathryn confessed (via Cheat Sheet).
So now that she has some distance, what does Kathryn think about the rest of the cast? Keep reading after the jump to find out!
Kathryn Edwards still doesn't hold back about RHOBH
Even after leaving the show Kathryn Edwards still has many opinions about the Real Housewives of Beverly Hills — and she's not afraid to voice them. 
Kathryn weighed in on Housewife Erica Girardi and her own personal experience with the reality star amidst the scandal enveloping both her and her estranged husband, attorney Tom Girardi. "I think [Erika], this is just my opinion, I just don't think she's real at all," Kathryn dished on the Behind the Velvet Rope with David Yontef podcast (via CELEB). "I don't think she's a caring person, she added. "I saw her talking really poorly to all the crew and the way she talked down to people and snapped at people that were less than her that were working for her. I don't like that at all. I don't think that she is a nice person. That's the best way to say it."
Kathryn also had many opinions about former cast member Lisa Vanderpump and her abrupt departure. "I don't think that [Vanderpump] wanted to get off of the Housewife show," Kathryn surmised (via Cheat Sheet). "She asked for some specific things that the show wasn't going to give her to make it better so she can save face," Edwards added. "And she walked away. But she, in my opinion, kinda got a little bit too big for the ensemble cast. And she did produce, she did try to control the storylines."
Source: Read Full Article