Kate Garraway opens up on Good Morning Britain colleague's cancer scare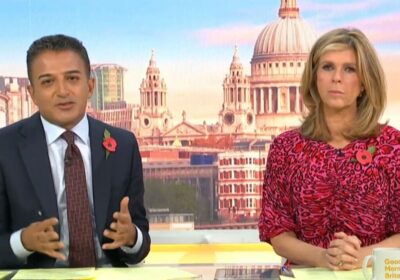 Kate Garraway shares 'concern' for co-star
Kate Garraway revealed a Good Morning Britain colleague of hers is waiting to hear back from a cervical cancer callback from a check she had in June.
She told viewers on Friday's instalment of the show that her colleague had a "suspicious result" and was told she'd be called back by the NHS.
However, months have passed and she is still waiting for confirmation.
It is estimated waiting lists could top eight million by next summer due to an extremely long backlog.
During the instalment, Kate and her co-host Adil Ray were joined by Iain Dale and Jacqui Smith to discuss the latest headlines.
"I think a lot depends on the condition you have, as you know, I've had my own issues with health over the past year and I can only speak very positively about my experience," Iain said.
Kate interjected: "But there are many people who have been waiting far too long. Is that because yours was urgent? I feel that a lot of people find that urgent care is still delivered."
Opening up about her colleague, Kate added: "Somebody we know, a colleague here, had a suspicious result from her test for cervical cancer, being called back but that was in June and still not heard anything back about the callback."
Iain said the waiting lists are "incredibly long and far too long" on cancer treatments.
Don't miss…
Good Morning Britain viewers 'switch off' over Britney Spears coverage[UPDATE]
Kate Garraway warns Richard Madeley 'we haven't got time' on GMB[INSIGHT ]
GMB reporter urged to move away from edge as Storm Babet nearly blows her away[LATEST]
He added: "What do you do about it? Well, you can put more money into it which the government have started to do but in the end, one of the ways to get the list down is for all operating theatres to be used as often as they can be."
Jacqui, the Former Secretary of State for the Home Department, said hospitals are operating with three weeks of the month when they can operate properly.
According to a statement from Cancer Research UK: "62.8 per cent of people in England received their diagnosis and started their first treatment within two months of an urgent referral in August 2023."
However, this is "well below" the target of 85 per cent which has not been met in eight years.
Good Morning Britain airs on weekdays between 6am and 9am on ITV.
Advert-free experience without interruptions.
Rocket-fast speedy loading pages.
Exclusive & Unlimited access to all our content.

Source: Read Full Article