Johnny Depp wore Edward Scissorhands costume to bed while filming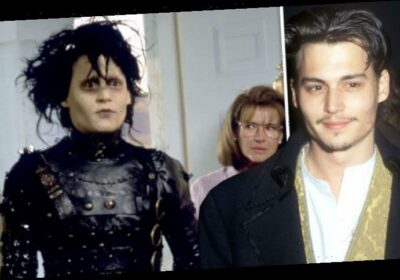 Johnny Depp resigns from role in Fantastic Beasts
When you subscribe we will use the information you provide to send you these newsletters.Sometimes they'll include recommendations for other related newsletters or services we offer.Our Privacy Notice explains more about how we use your data, and your rights.You can unsubscribe at any time.
Burton and Depp have built a strong relationship over the years working on various movie projects including Sweeney Todd, Corpse Bride, Charlie and the Chocolate Factory and Alice in Wonderland. The pair's first joint venture was Edward Scissorhands, however, which told of a machine who had become a man, but was left unfinished. The character struggled through the film with enormous scissor hands which caused countless problems, including puncturing water beds and cutting his face.
Depp appeared in a TV special before the release of Sleepy Hollow in 1999 where he discussed working on Edward Scissorhands film.
The Pirates of the Caribbean actor said: "I just used to put [the hands] on in my house.
"And I can remember trying to go to sleep with the hands on, you know, to see what it would be like when I woke up having forgotten that they were on.
"I woke up and the hands were completely across the room!"
WATCH THE VIDEO BELOW
Depp laughed, while adding: "I'd flung them off during the night at some point."
Although Edward Scissorhands had a lot of comical scenes which Depp loved, he admitted he recognised how touching and emotional the heart of the film was.
He went on: "I can remember reading the script and… It's embarrassing – weeping!
"I mean, I cried. I read the thing and I cried. I thought it was one of the most beautiful things I'd read in my life."
https://www.youtube.com/embed/O39uhoAQfwU
Depp was brought to tears years later by his Scissorhands co-star Winona Ryder when the pair called off their engagement.
After meeting in 1989, the couple worked together in Edward Scissorhands and fell in love.
Depp described their meeting as "love at first sight". He added: "There's been nothing in my 27 years that's comparable to the feeling I have with Winona.
"It's like this weird, bounding atom or something. You can think something is the real thing, but it's different when you feel it. The truth is very powerful."
DON'T MISS…
Johnny Depp ex-wife Amber Heard 'being eyed for Tangled role' [NEWS]
Pirates: Johnny Depp based his Captain Jack Sparrow on Pepé Le Pew [INFO]
Johnny Depp Pirates of the Caribbean return petition hits target [PETITION]
Johnny Depp: George Jung discusses relationship in 2018
After a year of being together, Depp proposed to Ryder and their relationship became the most popular celebrity match-up in Hollywood.
Depp told one magazine at the time: "I love her so much. I don't know what I would do without her."
After four years together, Depp and Ryder split up in 1993. The split happened just before the Corpse Chocolat star began filming Burton's Ed Wood.
The director claimed the break-up hit Depp hard, saying the 30-year-old was in "floods of tears" on set.
Burton said at the time: "I felt so bad. I asked him why it happened, but all he said was: 'It wasn't her fault, it was mine.'
"I felt weird to be around him, like he wasn't acting like Johnny anymore… It's almost like Winona took Johnny's soul, Johnny's love."
Ryder commented on the break-up years later, saying: "I was very depressed after breaking off my engagement with Johnny. I was embarrassingly dramatic at the time, but you have to remember I was only 19 years old."
SOURCE
Source: Read Full Article