Jeffrey Dean Morgan Slams S**tty 'TWD' Fans Attacking Norman Reedus Over Melissa McBride's Exit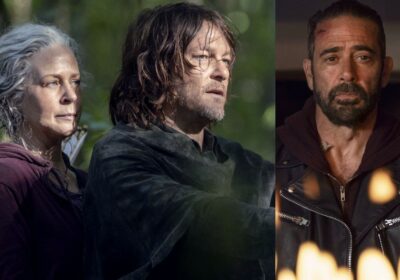 AMC previously announced in a statement that Melissa exited from a planned 'The Walking Dead' spin-off, which is set to focus on Melissa's Carol Peletier and Norman's Daryl Dixon.
AceShowbiz –Jeffrey Dean Morgan spoke out after it was announced that Melissa McBride exited the upcoming Daryl Dixon and Carol Peletier spin-off series. On Thursday, April 28, the Negan depicter took to Twitter to call out toxic fans who blamed her co-star Norman Reedus for the matter.
"Some of you have gone WAY too far," Jeffrey wrote in a tweet. "Attacking Norm for crap he has NOTHING to do with? Melissa made a call that was hers alone."
The actor went on to say, "She wants/needs a break. Respect that. Factors involved that are nobody's business. Norm, who's given more than anyone to you all." He concluded his post by calling the fans "Just S**TTY."
AMC confirmed Melissa's exit from the spin-off, which is set to focus on Melissa's Carol and Norman's Daryl, in a statement. "Melissa McBride has given life to one of the most interesting, real, human and popular characters in The Walking Dead Universe," read the statement.
"Unfortunately, she is no longer able to participate in the previously announced spin-off focused on the Daryl Dixon and Carol Peletier characters, which will be set and filmed in Europe this summer and premiere next year. Relocating to Europe became logistically untenable for Melissa at this time," the statement continued.
Following the exit, it was reported that the spin-off series will now focus entirely on Daryl.
The spin-off was announced in September 2020. "The Walking Dead flagship series has been my creative home for a decade and so it's bittersweet to bring it to an end, but I could not be more excited to be working with Scott Gimple and AMC to develop a new series for Daryl and Carol," "TWD" showrunner Angela Kang said when the spinoff was announced. "Working with Norman Reedus and Melissa McBride has been a highlight of my career and I'm thrilled that we get to keep telling stories together."
Longtime producer Scott Gimple also claimed that the spin-off is aimed to keep "The Walking Dead" story going despite the series' end. "There are ways the story, of course, was going to continue to keep going," Scott told Insider at the time.
"But it is going to continue to keep going with Daryl and Carol. It's going to be a different show with a different tone, but the story of that corner of 'The Walking Dead', in some ways, it continues to go through them. Angela and I have been working on a story for a while, and there's just a very super interesting story there," he continued.
Source: Read Full Article