Jane McDonald makes candid admission about nerve-wracking encounter 'I thought this is it'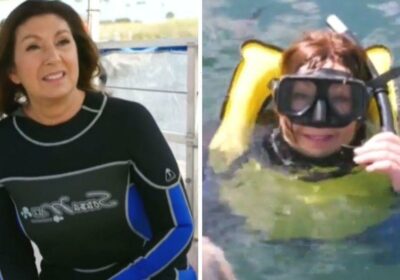 Jane McDonald admits to 'nerves' before meeting manatees
We use your sign-up to provide content in ways you've consented to and to improve our understanding of you. This may include adverts from us and 3rd parties based on our understanding. You can unsubscribe at any time. More info
Singer and former Loose Women star Jane McDonald revisited the USA for her Channel 5 series, Jane McDonald's Florida. She took part in a number of water adventures including swimming with manatees and opened up about taking the plunge.
Throughout her career, Jane has travelled across the world while singing on cruise ships and returned to the USA for the show.
As the 59-year-old journeyed across Florida, she stopped in Orlando to take part in the city's various water activities.
After kayaking at Rock River Springs, Jane decided to go swimming with manatees.
Ahead of the excursion, the singer was briefed about the animals and informed of safety precautions when she opened up about her apprehension.
Speaking about the animals, the leader of the excursion explained: "They have what's called marching molars.
"So their teeth will move forward about a millimetre or two along and they will push the bad ones to the front and they'll fall out and get new ones come in the back."
"With that being said, they're teething, they're like big babies, so their whole lives they're chewing on anchor lines, they'll chew on our hair, on our wet suit straps, anything they can put in their mouths."
Which led a concerned Jane to ask: "What about legs… they're not going to eat us?"

The leader responded: "No they're not going to eat you.
"If they happen to eat you, it's basically just going to be like they're gumming you to death."
"Right, so we're in for a good gumming," Jane added.
When the leader confirmed her question, the singer responded: "Right, didn't know that when we set off."
As Jane and the rest of the swimmers reached their destination, viewers watched as she prepared to dive in by putting on a wet suit and snorkelling gear.
There was an underwater view as the singer took to the waters and came face to face with the manatees.
While in the water, Jane shared: "They're just so flaccid and big."
She confessed: "I must admit I was a bit nervous when it came for me, I thought this is it.
"But they didn't they just went past me, so you know, it just thought 'Oh one of them.'
"So it was fine," the singer added, "They were not gumming me today and I'm pleased to hear it."
Jane then continued on her journey and went down south to Fort Lauderdale.
She also visited Miami where she took a cruise past the million-dollar mansions.
Holidaying With Jane McDonald: Florida is available to watch on My5.
Source: Read Full Article