Jamie Redknapp and girlfriend Frida Andersson-Lourie look loved-up on coffee run after Louise said she 'regretted' split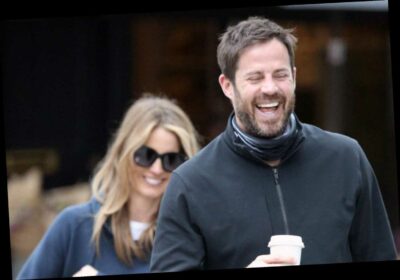 JAMIE Redknapp and model girlfriend Frida Andersson-Lourie looked the picture of happiness as they cosied up on a coffee run.
The loved-up pair giggled and cuddled on the casual walk in London, which saw Jamie, 47, in a dark zip-up jacket and matching trousers.
Glamorous Frida, 37, went for a similar shade, looking relaxed in her sports leggings and jumper.
It has been reported that Jamie was attracted to the Swede's sense of humour, and that certainly looked to be the case on the outing, with the former footballer unable to stop smiling.
The pair have been dating since last August, with Jamie immediately falling for the "kind and fun" mum-of-four.
Earlier this month Jamie's ex-wife Louise revealed her frustration that the retired sportsman had been praised for stepping up as a father after their split.
The Eternal star, who separated from footballer Jamie in 2017 after 19 years of marriage, admitted feeling resentful that her hard work and dedication to their sons Charlie, 16, and Beau, 12, at the height of his sporting career went unrecognised.
She said: "This is of no unkindness towards Jamie at all, he's a great dad. But… it was like 'oh, look how amazing, he's taking his children on holiday, what an amazing man'.
"And I would sit there at home going, 'for 15 years I've taken my kids away on our own when he's been working. 15 years, not one person has ever said well done to me'.
"So, it's just these double standards that are out there and I'm not even placing blame. I think it's just the way we've all conditioned ourselves to think."
Louise, 46, admitted she too has fallen into the trap of coming down harder on herself in the wake of their separation.
She told Headliners on BBC Sounds: "Maybe I just feel better taking the blame publicly and privately.
"I think I got into a very comfortable position of, 'it must all be my fault' because that's just the person I am."
Louise added: "Parts of my marriage were incredible… and the last thing I've ever wanted is to not look like I'm grateful.
"But no matter what you've got, whether it be a bank balance, family, whatever you've got around you, everybody's heart breaks the same."
Louise recently revealed in her book You've Got This that she would put the football on TV after the split as it reminded her of Jamie.
She said: "I don't even like football, but I had spent 20 years having it on in the background, and I didn't know what else to put on.
"It was like my internal GPS had been switched off. I just didn't know what to do with myself, and this familiarity was something to cling on to that was comforting."
Source: Read Full Article